The Elite Prime Vision® AcousticPro 4K wins 2013 EXCITE Award
The Elite Prime Vision® Peregrine/Curve Acoustic Pro 4K wins 2013 EXCITE Award
Elite Screens is pleased to announce that the Elite Prime Vision® A4K screen material, which is available on the lunette and peregrine fixed frames has won the Technology Integrator Magazine (formerly Custom Retailer) 2013 EXCITE Award. Each year, Technology Integrator invites nominations of products that stand out for being innovative, high-performing and solutions-oriented for the custom installation professional. The 2013 winners stood out as particularly impressive, considering the unique challenges custom installers face everyday on the job. The impact these products have on the industry is felt in the installer's productivity, the dealer's profitability, the client's satisfaction and the industry's vitality.
About the Acoustic Pro 4K Material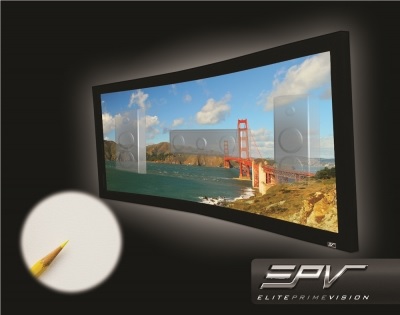 (click on image to go to the Curve Acoustic Pro 4K product page)
The AcousticPro 4K is a high resolution acoustically transparent projection screen material. Its specialized high density weave meets the needs of digital projectors up to 4K resolution (4096×2160) with complete elimination of the moiré effect. The 4K AT material was crafted to give an excellent on/off axis color temperature with superb audio performance that damps only -.91min to -3.00max dB variation at 20 KHz. It is available on the EPV® Peregrine line of fixed and curved frame projection screens.
For more information about the AcousticPro 4K and other Elite Prime Vision® products, visit https://epvscreens.com.
email: sales@epvscreens.com
tel. 877-511-1211