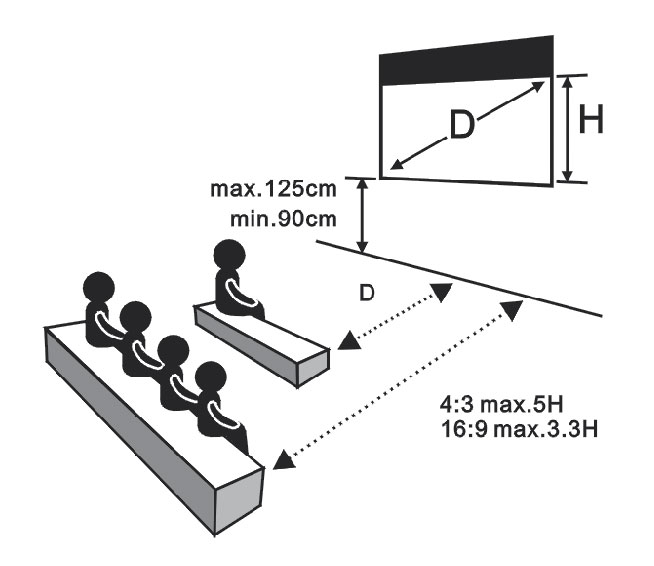 We recommend spending around 15-30 percent of your projector cost on the type of projection screen that would be the most suitable in matching the quality-to-cost ratio with your projector.
Wall/Ceiling Screen
Manual Pull Down Screens are the typical entry level product. They are simple, reliable, and affordable and present a flat projection surface.
Fixed Frame Screens are generally for the dedicated home theater room although they do find their way into commercial installations as well. Most high-end professional installations prefer using this product line over the retractable projection surfaces. Our diagonal sizes range from 76" to 200" for a larger than life experience.
Electric/Motorized Screens are ideal for use with a concealed projection system allowing your media room to be used for other purposes as would be seen in a conference room, classroom or family room. Our product comes fully assembled ready to plug and play with all the accessories required to operate the screen. The diagonal measurements for our electric screens range from 75" to 400" surfaces.
Portable Screen
Whiteboard & Pliable Screen
Most Popular Screens
80" Manual Pull Down Screen - 4:3 Format - M80NWV
100" Manual Pull Down Screen - 16:9 Format - M100UWH
84" Electric Screen 4:3 Format - Electric84V
125" Electric Screen 16:9 Format - Electric125H
106" ezFframe Screen 16:9 Format - R106WH1
85" Tripod Portable Screen 1:1 format- T85UWS1
Stadium / Large Conferece Room
Wall/Ceiling Electric Screen - SK200XHW2 (200" Diag. 16:9 Format, 98"x174" IR/RF Remotes, 12V Trigger, 3-way Wall Switch, IR "eye" extension)
Wall/Ceiling Electric Screen - SK235XHW2 (235" Diag. 16:9 Format, 98"x174" IR/RF Remotes, 12V Trigger, 3-way Wall Switch, IR "eye" extension)
Wall/Ceiling Electric Screen - SK265XHW2 (265" Diag. 16:9 Format, 98"x174" IR/RF Remotes, 12V Trigger, 3-way Wall Switch, IR "eye" extension)
Quickstand Folding Screen - Q200VD (200" Diag, 4:3 Format Commercial Portable Screen w/Drape Kit)
Portable Screen - F150NWV (150" Diag. 4:3 Format Portable Floor Pull Up Screen)
Education
Manual Screen - M84NWV (84" 4:3 - Small Size Classroom)
Manual Screen - M100NWV1 (100" 4:3 - Mid-Size Classroom)
Tripod Pull Up Portable - T85UWS1 (60"x60" - Portable Training)
Tripod Pull Up Portable - T119UWS1 (84"x84" - Portable Training)
Electric Screen - Electric100V (100" 60"x80" 4:3 - Mid-Size Room)
Electric Screen - VMAX170XWS2 (120"x120" - Large Conference)
WhiteBoardScreen™ - WB80V (80" 47"x63" 4:3 - Mid-Size classroom)
Home Cinema
Premium Electric Screen - TE100HW2 (100" Diag, 16:9 Format, IR/RF Remotes, Tab-Tension Electric)
Premium Fixed Frame Screen - R100WH1 (100" Diag., Velvet Trim Fixed Frame, 16:9 Format)
Multi-Application Electric Screen - VMAX100UWH2 (100" Diag. VMAX Electric 16:9, IR/RF Remotes, 12V Trigger)
Economy Line Electric Screen - Electric125H (125" Diag. Electric 16:9, w / IR Remote & 12V Trigger)
Manual Pull Down Screen - M100UWH (100" Diag. Manual Screen 16:9 Format)
Portable Indoor/Outdoor Movie Screen - F80NWH (80" Diag. Ez Cinema Floor Pull Up Screen 16:9)
Lunette Curved Fixed Frame Screen - Curve235-103W (Small to mid-size rooms)
Dual aspect ratio premium electric screen - VMAX100H95C (16:9 / 2.35:1 all in-one screen)
Portable Application
Tripod Pull Up Portable - T85UWS1 (60"x60" Budget Portable)
Tripod Pull Up Portable - T113UWS1 (80"x80" Mid-Size Portable)
Tripod Pull Up Portable - T136UWS1 (136"x136" Large-Size Portable)
Premium Floor Pull Up - F60NWV (60" 4:3 Floor Pull Up - Personal)
Premuim Floor Pull Up - F150NWV (150" 4:3  Large-Size Portable)
Church
Wall/Ceiling Electric Screen - SPM150VT (150" Diag. 4:3 Format 90"x120", 3-way integrated control switch)
Wall/Ceiling  Electric Screen - VMAX153XWS2 (153" Diag. 1:1 Format 108"x108", IR & RF Remotes, 12V Trigger)
Wall Permanent Fixed Frame Screen - R180WV1 (180" Diag. 4:3 Format Velt Trim Fixed Frame Screen)
Portable Screen - F150NWV (150" Diag. 4:3 Format Portable Floor Pull Up Screen)
Ambient Light Rejecting Wall/Ceiling Electric Screen - STT135UHD5-E6 (135" Diag. 16:9 Format 66"x118", IR & RF Remotes, 12V Trigger)
Office
Premium Tab-Tension Electric Screen - TE100VW2 (100" Diag. Tension Electric 4:3 IR/RF, Trigger)
Premium Electric Screen - Home100IWV2 (100" 60"x80" 4:3 Electric Screen, IR/RF, 3-way Wall Switch, Extended IR "eye" sensor)
All Applications Electric Screen - VMAX100UWV2 (100" Diag. VMAX2 Electric 4:3, IR/RF/12V Trigger)
Electric Screen - VMAX113XWS2 (113" 80""x80"" Electric Screen w/ IR/RF Remotes)
Manual Pull Down Screen - M100NWV1 (100" Diag. Manual Pull Down Screen 4:3 Format)
Click here to view the Product and Screen Material Selection