Portable Projection Screen Testimonials
Check All Portable Projector Screen Products
"Super fast screen setup, really is a 5 second setup."
This projector screen is the absolute easiest and fastest screen I have ever used. Works exactly as you would expect, just open box and lift screen out. The accordion style structure in the back pops up and allows adjustment to any height between minimum and maximum.
TIP: This will not work with a short throw projector as it is not tensioned like the framed screens that were discontinued.
Keep in mind that this thing with the case is as long as the width of the screen. I was not able to get mine into my building as we don't have a freight elevator, so its staying in the garage.
Kalen von Olnhausen
"Designer Cut Series"
Designer Cut Series
Model Number: ZRM-135H-CINEGREY3D
This is for the cinegrey3d, and since there is not one review on amazon for this material I figured I would write one. The ambient light rejecting aspects of the material is amazing, much better then carls place alr sample I have because it doesn't reduce the amount of briteness and in fact it makes the colors more vibrant and rich because it adds a much better level of contrast which is the one thing most projectors lack.. Trust me it's awesome and you won't be disappointed with it, the 3d is ridiculous. . I can only say how good it is with my projector which is an Epson 2040… Trust me it's pretty sick..
Ronnie – Amazon.com Customer Review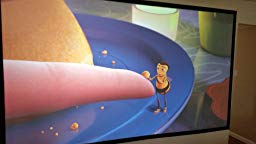 "This screen is awesome and it got here super fast!! I'm very impressed."
This screen is awesome and it got here super fast!! I'm very impressed. I can't believe it was priced so I can afford it. Ready to watch some Seahawks Superbowl Victory action!! Thank You!! the photo is a daytime shot… the screen makes the image even brighter and more vivid than projecting onto a white wall 🙂
THE DOTKU – Amazon.com customer review
"110 edgeless screen with biased lighting."
Designer Cut Series
Model Number: ZRM-135HW-CineGrey5D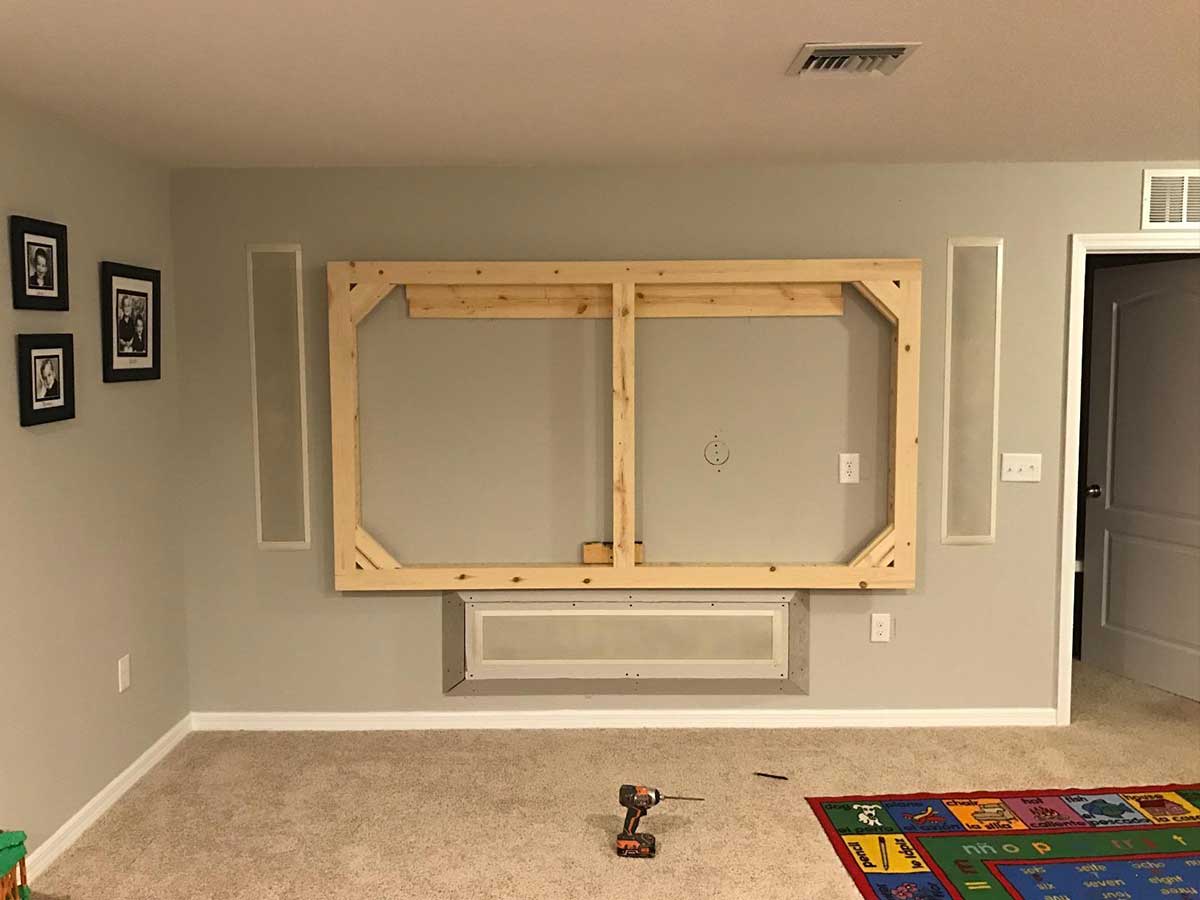 Amazon seems to lump the cinegrey reviews together. So my review is for the cinegrey 3D®. I bought the 135 inch cinegrey 3D® designer cut. I built a 54 by 96 frame for a 110 inch diagonal.
My frame consists of a face frame made from #3 1×4's 8 feet long. These are pocket screwed in to a rectangle face frame that is then mounted to a base frame of 2×4's on edge. The base frame gives my face frame a 3.5 inch pop out effect.
I built an edgeless designed screen. I wanted the pop out out so I could mount bias lighting behind. The bias lighting helps a bit with image overspill. I bought a $17 projector mount on Amazon, it makes getting the picture perfectly dialed in, nearly impossible. I'll be watching for a deal on a peerless mount, and I'll update my photos then. But for now, the image does not center perfectly on my screen.
On to the cinegrey. It does a fair job of rejecting ambient light. Bright scenes look good in a lit room. But even my super bright Epson 2040 really struggles with dark scenes. It could be a combination of poor LCD contrast ratio, and a dark colored screen. Dark scenes look fine in a completely dark room, but I would not want to watch them in a moderately lit room.
If you want to watch football or most animated Disney movies you will be happy with this screen material in ambient lighting situations.
I do not consider this a down side. I think for movies to be immersive, you need a completely dark room. So just watch movies at night or close off all the windows. But for football and those types of programming you'll enjoy having lights on and still have a good picture. I'll update my photos as I get better ones. For now I've posted a screen shot from the replacements. It was in a fairly well lit room. And a scene from back to the future in a mostly dark room, except for biased lighting.
As to construction, it went as expected. I sanded all my edges of my frame to give a slightly rounded over effect. I had zero issues with my fabric ripping. The fabric stretched well, and the screen surface came out perfectly smooth. My only stapler is a hammer tacker. These are for stapling roofing felt and house wrap. They are not designed for accurate stapling. So I stretched my fabric, and then held with one hand while I placed the hammer tacker where I wanted it. Then I sort of pinned the fabric with the tacker and hit it with a rubber mallet to drive the staple. This was a little cumbersome, but 95% of my staples fired exactly where I wanted them. The other 5% were not an issue.
The corners were difficult to get right. But it's not real noticeable.
I'll let my photos do the rest of the talking. I would buy this again. I paid the full Amazon list price. I think it's a good value. I have under $175 in my full setup including biased lighting. The cinegrey base (non 3D) would probably be adequate for most folks. And it's $30 cheaper.
trbizwiz- Amazon.com customer review
"The images really popped out with Elite's 1.1 gain"
Tripod Series – T85UWS1
After buying a new BenQ projector, I had to replace my old Da-Lite silver screen which served me well for 15-years. Its glass beaded coating created a silk screen effect that deteriorated the picture quality. I wasn't sure of the largest sized screen that would fit comfortably in a 12×12 room, so I rented a Da-Lite Versatol tripod from a camera store. It was the matte white version with a 1.0 gain. I was struck by how pancake flat the picture appeared; plus, it caused for an overly warm picture hue in which I personally do not like.
So I ordered from Amazon the Elite screen hoping for better results. And to my surprise, it reflected a perfect picture. The images really popped out with Elite's 1.1 gain. It had beautiful depth and contrast to the images with a more natural color hue. The Elite also performed better with ambient light; and the added bonus was its ability to swivel the screen around so that it can be positioned near the back wall. Da-Lite couldn't do that. That's a huge plus within a small room as you gain nearly 2-feet of distance for a bigger picture. Well, who knew there was a big difference between the screens? I found out by accident.
Rich Vergo – The Jersey Shore
"Exactly as described. Hight quality at a low price."
Exactly as described. Hight quality at a low price. It'll last years and it only seems heavy if you're an unusually frail person (regardless of gender). Based on its size it's actually quite light. It's obviously going to require care when carrying due to its length so that you don't clobber someone accidentally but that's as expected with large equipment such as this. Anyway I love it for my professional presentations at work, as I regularly address large audiences and my kids and guests love it in the backyard during barbecues to project movies and music videos onto (really adds a cool element to any outdoor party). One of the best purchases I've ever made! …I repeat….One of the Best purchases I've EVER made!
Johnny Bravo – Amazon.com Customer Review
"The crisp images that come from this super-reflective screen"
Tripod Series – T71NWS1
The crisp images that come from this super-reflective screen have significantly improved the quality of my presentations, especially ones I make in well-lit rooms. Very easy to set up and closes firmly so I don't have to put up with dangling legs. A nice update to my presentation tool kit.
Paul L Hutton – Amazon.com Customer Review
"If you are reading this review, just buy this screen."
If you decide on something else, you will regret it.It took me a bit of research to locate this screen, but I am very happy that I found it. I was looking for a portable presentation system. I was originally planning on a small pico-projector. Most of the pico-projectors produced a small image or required a very dark room. The thought of 2 or 3 people crowding around a small pop-up screen, did not impress me as being a serious presentation. This type of system would not work with family or friends either.
I decided to get a 700 lumen LED pico-projector and this screen in the 45 inch size. This ended up being a larger system than I originally planned, but it is still very portable. This screen is extremely easy to set up and produces an excellent picture. This produces a good picture for small groups (maybe more, depending on seating etc.). The room does not have to be very dark to produced a good, vibrant image. When people see the picture on this screen, it,s WOW. This is where the WOW factor comes in. because it is that impressive.
I like that this screen does not need a tripod or a large table to use. The screen can be adjusted to any height so that if you are showing a wide screen picture, you can just pull up the screen to fit the picture with no extra screen showing. The base is stable when used indoors, but would not work outside if there was a breeze. Very few other screens would work outside, but this screen is so easy to use that you get tempted to do this because of the convenience of using this screen.
Thomas – Amazon.com Customer Review
"Just wanted to thank you for your wonderful products"
Just wanted to thank you for your wonderful products. We were looking for a "moveable" option for a home theater room (furniture gets moved around a lot in our house), and we came upon your tripod line of screens. We purchased a 120-inch one, love it, but we discovered we could also go quite a bit larger, as well. We purchased your 150-inch EZ Cinema pull-up screen and have had fun playing with it (and being in awe) all weekend. We can't get over how simple it is to use – set-up and tear-down take place literally in seconds. We appreciate the sturdiness of the case, as well – we simply leave it on the floor for now so it's ready to go again in seconds when we want to use it. Thank you again for your quality products – you have customers for life in us ! 🙂
L.B. Colorado
"I purchased my screen for use at an outdoor event."
I purchased my screen for use at an outdoor event. We had a game console set up for a tournament in which the winners were playing for a brand new snowboard and a great pair of headphones. The screen worked great even in the bright conditions and allowed us to have a very interactive set-up. The competition got people very excited and engaged. We couldn't have done it without the great screen from Elite Screens.
Chris Aiello – Product Manager, Headphones
"F80NWH ezCinema, IGAME4."
IGAME4 – NY
"I am extremely happy with my purchase "
I did quite a lot of research before purchasing a screen for my new Optoma projector. I live in a decent sized apartment and wanted a screen large enough to show off my new projector but not so large that it robbed me of floorspace. The EZ Cinema screen was the perfect choice! It is incredibly portable. I was worried that a screen this large would be difficult to move but it couldn't be easier. Everything rolls right up into the casing and latches securely. Total time to unpack/put away is about 30 seconds. The screen was packaged well and the build quality is top notch (especially considering the price). I am extremely happy with my purchase. I will definitely be purchasing another Elite Screen once I have the space to upgrade to the 100″ ezCinema Series
Chris