EPV® DarkStar® 9 Wins Sound & Visions 2015 Top Pick Award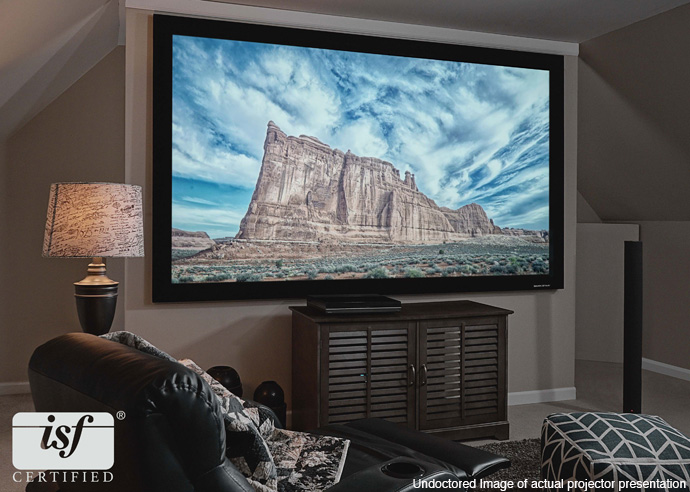 (Click image to view award)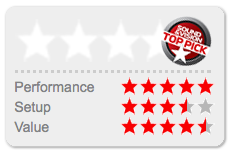 Intro:  2015 Sound & Vision Magazine Top Pick Award  DarkStar® 9 Retro-Reflective Ambient Light Rejecting (ALR) Projection Screen.
Winner: Sound & Visions 2015 Top Pick Award – DarkStar® 9
"Elite Prime Vision® DarkStar® 9 Projection Screen Review" By Michael P. Hamilton. Posted October 12, 2015
AT A GLANCE
Plus
Exquisite color rendering
Solid black level with a tremendous sense of image depth
Glare-free viewing with sensible ambient light level
Minus
Pricey compared with Elite's traditional screen materials, though in line with or cheaper than some other ALR solutions
THE VERDICT
No misgivings apply to this multi-layer, firm-surfaced material. Every atom of detail in the source reflects back with seemingly free, bonus lumens. If there's color shift at extreme angles, it's only measureable, not noticeable.
High light-output capabilities and receding prices in the DLP and LCD projector camps have recently broadened the application possibilities for two-piece projection video. One facet of design garnering prominent attention from screen manufacturers is ambient light rejection (ALR) technology, which allows a projector/screen combo to function as the big-screen TV in a multipurpose room the way a flat-panel TV might—though at a potentially much larger size.
A branch root of these innovative endeavors may be time-lined by the introduction of "gray" screens during the toddler days of LCD projection, as struggling black levels found welcome assistance from tinted screens. Arguments may ensue over whether "tint" is the appropriate connotation here—some insisting that, in the realm of projected light, gray is a shade within the overall balance of correct colorimetry and not an alteration. Well, then, imagine delivery day of your special-order Ferrari California in Bianco Avus, only to find that when unveiled, a Grigio Ferro exterior makes your acquaintance. Mamma mia! In the primordial days of screen benefaction, the general populace took kindly to the darker grays provided by these screen types. Sure, a few pesky devotees of the industry-standard D65 white point objected that some formulations were red-subtractive or made hockey ice appear dull, but we—er, I mean they—accepted forfeiting a portion of light output as ransom for higher contrast ratios.
Many refined forms of gray screens are satisfactorily deployed today in moderate ambient-light conditions. However, driven by fresh thinking and a Formula 1–style, no-holds-barred approach to the problem of projecting images in a lit-up room, some manufacturers have unearthed new materials and applications that produce astonishing results.
Historically, ALR screens have been used when light levels aren't easily harnessed or when partial illumination is desired, such as in dual-purpose areas with down-radiating light for reading. Increasingly, manufacturers are citing the enhanced contrast that ALR screens may provide compared with that of their white-reflective brethren, and they're urging that ALR screens be used in dedicated home theaters, where judicious management of light has always been a priority.
One company purveying a screen with these attributes is Elite Prime Vision®, the custom-installation and systems-integration division of Elite Screens. Responding to our request for an ALR screen, EPV® provided their DarkStar® 9 model in a 110-inch- diagonal configuration (DS110H-ISF). Newly certified by the Imaging Science Foundation, DarkStar® 9 is an active-filter, rigid and non retractable, optically based design, not an extruded colored vinyl or vinyl/appliqué hybrid. Will the technologies employed prevent color shift, maintain unity gain, and reject penalizing ambient light? And when the screen is used in a controlled-lighting situation, will it enhance the viewing experience as claimed? Let's see whether our Ferrari will be white or gray.
Materially Speaking
The appropriately named DarkStar® 9 offers a 0.9 gain when viewed head-on and offers a generous horizontal viewing angle of 180 degrees (90 degrees left/right) and a vertical angle of 36 degrees (18 degrees up/down). Minimum throw ratio for DarkStar® 9 is 1.5x the image width, not the total screen assembly. (More about that in a moment.) In comparison, the original DarkStar® material was 1.4 gain with a hori- zontal angle of 70 degrees (35 degrees left/right) and a vertical angle of 32 degrees (16 degrees up/down). Its minimum throw ratio was 1.8x the image width.
Elite specifies a minimum throw ratio so that the vertical optical filter layer of a DarkStar® screen, which is designed to absorb ambient light, doesn't also consume the desired projected light. With an excessively close throw distance and DarkStar® material, a projector's angle of incident light becomes too steep for correct reflection; instead, that light will be diverted away from the viewer and result in a dimmer image (i.e., the optical filter layer believes it to be ambient light). Also possible is hotspotting, that proverbial "mariner's halo" at the center of the image, often seen on elderly screens in sports bars.
My DarkStar® 9 review sample had a screen frame 3.9 inches wide. (Keep in mind that this is an additional dimension for all four sides, appended to the 95.2 x 53.5-inch viewing surface.) While a 2.4-inch Special Edition frame was listed on EPV's Website at review time, the company says it's being discontinued, with development underway on a new super-sleek design.
The 0.3mm retro-reflective DarkStar® material, as described in a video on EPV®'s site, "uses a complex, six-layer microfilter design that maximizes brightness by blocking 90 percent of ambient light." I asked an EPV® spokesperson how many layers comprise the screen, earning a reply that they could only "quote 'multiple layers,'" so I defer to the video and presume it to be correct. The com- bination of the recessed reflective layer, below triangle-shaped microscopic filters providing off-axis vertical light rejection, enables the desired projected light to be returned to the viewer. Of the multiple DarkStar® layers, one is said to be a tinted diffusion layer to enhance black levels for higher contrast ratios. DarkStar® 9 is stated to have a 6x increase in contrast ratio over that of standard matte-white screens.
EPV® confirmed that the DarkStar® material doesn't offer light rejection horizontally. However, in my time with the DarkStar® 9, I found it adequately doing so, perhaps by default.
The reduction of gain from the original DarkStar®'s 1.4 to DarkStar® 9's 0.9 creates the wider 180-degree viewing cone with improved uniformity to minimize color shift, granularity, hotspotting, and a darkened viewing-surface perimeter. DarkStar® 9 is compatible with HD, Ultra HD, and 4K, meeting SMPTE .004 standards for dark-room environments.
Setup
The DarkStar® 9 frame is one of the most substantial consumer screen frames I've seen. It's a bit of an erector set, in that the top and bottom frame members are each composed of two joined pieces and not shipped as a singular span. But the screen assembled methodically, free of concerns. The viewing surface affixes handily to the rear of the frame via an army of spring clips. Yet from the moment of completion to the time the screen was repacked, I saw no signs of tension forfeiture.
I was able to retain the Epson PowerLite Home Cinema 3500 LCD projector I reviewed for our May issue (also available at soundandvision.com), believing it to be an ideal workhorse for an ALR screen pairing. With that projector, the only relative shortcoming I discovered was an inability to deliver cinema-level black (which Epson, following their usual philosophy, instead traded for light output at the $1,600 price). That wasn't a significant factor for testing in an elevated-ambient-light environment. Using Epson's excellent suite of onboard color management tools, I dialed the duo in and shortly had it ready for evaluation.
For my review, the DarkStar® 9 was wall-mounted in a completely light-controlled theater environment, with a door allowing daylight to sift in when necessary for testing. Additionally, I positioned various types of lighting above, under, and next to the screen to analyze its rejection capabilities. A floorstanding, incandescent lamp with three 60-watt globes was placed 24 inches from the right edge of the viewing surface and 12 inches perpendicular to the screen wall. Light emission from the three globes cast evenly across most of the right third of the screen. I rigged a tubular fluorescent trouble light from the ceiling, 12 inches from the wall junction at screen center, to cast light downward. Below, an LED fixture with a pretense to "daylight" color temperature was able to illuminate up from the screen bottom, testing the optical vertical filters in that domain. Although far from a scientific enterprise, these three types of ambient light plus a sunlight path from the outside sufficiently tasked the DarkStar® material. Into my Oppo BDP-103 universal disc player went Rush's Snakes & Arrows Live, a tour de force 1.78:1 Blu-ray that I maintain is easily reference quality.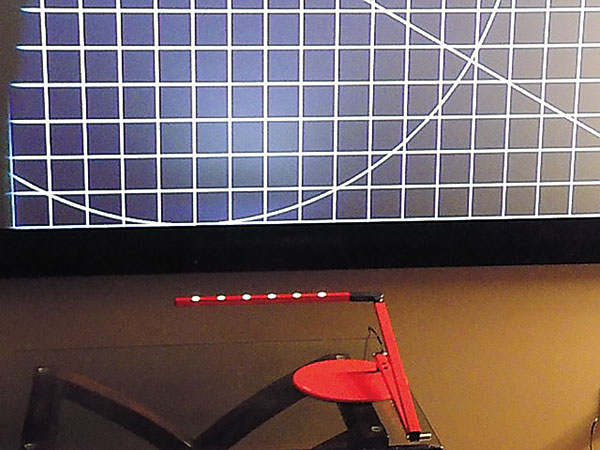 One by one, each type of light lashed out at the DarkStar® 9, and only the incandescent fixture (the floorstander by the screen's right edge) dimmed the image to any degree. That happened when the image depicted the stage lighting being lowered between songs. But whenever the stage was seemingly afire from lasers, spotlights, and (occasionally) real fire, the DarkStar® 9 punched out the image with the same authority that Alex Lifeson's Hughes & Kettner amps dealt his guitar riffs. From above and below the screen, each lamp had no identifiable effect I could spot from an appropriate viewing distance. When I moved closer into the incident angle of reflection, washout occurred, reinforcing EPV®'s caution regarding throw distance.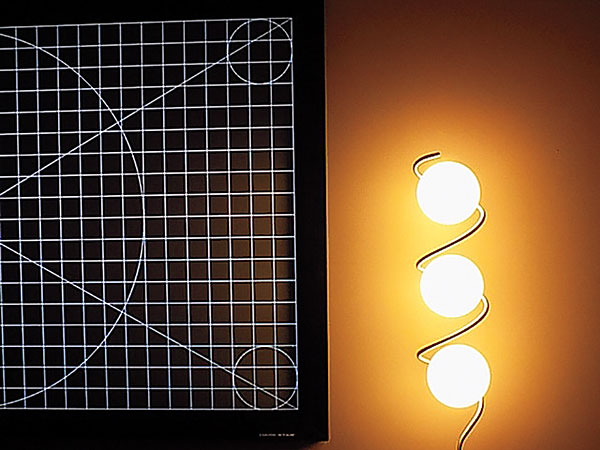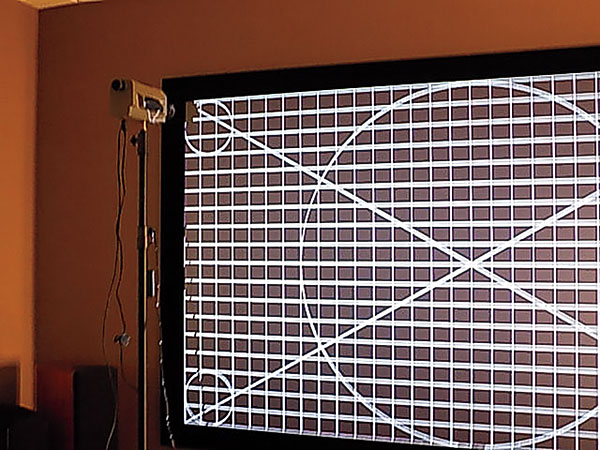 I'm no Carl Sagan, but I confirmed to my own satisfaction that the DarkStar® 9 material delivers as promised on vertical ambient light rejection and is pleasantly effective in the horizontal plane, handling mildly unavoidable light leakage.
DarkStar®-Gazing
I now turned to what only a few years back would have appeared to be logically incongruent: using an ambient light–rejecting screen in an environment devoid of ambient light. (Sorry, Mr. Spock!)
With the lights turned off for traditional dark-room theater viewing, I placed into the Oppo's tray the 2004 film adaptation of the musical The Phantom of the Opera. In chapter 3 at 9:33, Monsieur Lefèvre proceeds with turning over the Opéra Populaire to Mssrs. Firmin and André. Underneath the layer of his overcoat, Lefèvre's suit jacket is visible. In my viewing notes, I wrote, "I've seen this passage hundreds of times; never noticed the raised velvet pattern on the suit. The texture is stunning with black gradients." A few minutes passed before I was interrupted by friends, curious about what I was doing. I invited them in, while cueing up another point of reference. Hearing it was Phantom, they gave up a collective "ugggh" (these friends being of the rock-'em-sock-'em ilk). Pressing play for chapter 14 at 55:05, I summoned the scene where Carlotta (Minnie Driver) is in a pink mink wrap and a lace-strewn hat that's appropriately flowered and sporting a feather. The "ugggh" pivoted to "Holy jumpin'! That's amazing! I can't believe how spectacular that looks! How much is this?" Not exactly the type of seminal moment that ends world conflicts, though it might be in the zip code of "build it, and they will come."
What it reinforced for me is that a little powerhouse projector like the Epson PowerLite Home Cinema 3500, when coupled with a high- technology screen, can dance around the price ranges occupied today by 75- to 80-inch flat panels. While those are UHD 4K (and in this instance, the Epson is 1080p), the glare-free, large impact of a partnership like this is mighty compelling; indeed, there are much worse ways to await the 4K rollout. As Phantom continued and Christine got set to replace Carlotta on stage, I changed viewing angles at various radiuses around the screen. My notes point out "no apparent loss of luminance, nothing amiss color-wise; black level solid anywhere the screen is viewable."
I followed with Pixar's Cars, the beginning a splendid way to test black level. As the soundtrack keeps us aurally captive on the infield at a "hot" racetrack, the image remains black. During that span, the Epson 3500 revealed its performance frailty of weak black level—no fault of the screen. Moments later, a lightning burst of color places you behind a cartoon windshield, catapulting down asphalt. Once more, it goes black; Lightning McQueen's voice searches deep inside for the confidence needed to conquer the checkered flag. What the DarkStar® 9's contrast increase does exceptionally well is pull the active image dimensionally forward in such a way that black bars retreat nicely to the background, though without fully disappearing on a projector with limited contrast like this Epson. On a projector with deeper native blacks and higher contrast, it probably wouldn't be necessary to mention black bars, as they likely would be absent on most scenes.
Another intriguing benefit of the DarkStar® 9 in dark-room viewing is that its design, which focuses the projector's light directly back at the viewer, minimizes the typical effect of reflected screen light energizing the side walls. This further enhances contrast.
To the 9s
The Elite Prime Vision® DarkStar® 9 has a split personality, and both of its personas are equally appealing. With judicious placement that avoids having ambient light fall directly on the screen, it offers the option of enjoying a dramatically larger glare-free image than that of many flat panels at or near the combined ticket of a DarkStar® 9 plus a budget-priced (under $2,000) high-light-output projector. While this screen tallies a bit north of $3,000 all by itself, the technology involved and the results it coaxes from the source definitely command comparison with other screens making similar claims. I feel confident calling the DarkStar® 9 a top contender in overall ALR performance.
Where the DarkStar® 9 will have you completely rethinking your approach to screens, however, is in its use for light-controlled theater environments. Any projector will benefit from the ultra-wide viewing angle, which at the same time retains uniformity. Add in enhanced contrast with ocean-deep black levels, flat spectral response, and accurate color fidelity, and you've got an ALR screen that can clearly serve double duty when the lights go down. The DarkStar® 9 earns my enthusiastic recommendation.
Specs
Viewing Surface (WxH, Inches): 95.2 x 53.5 (110-in diagonal)
With Frame (WxHxD, Inches): 103.1 x 61.4 x 1.7
Aspect Ratio: 1.78:1
Gain: 0.9
Retractable: No
Test Bench
Measurements were made while the room was light sealed. All measurements were taken at a distance of 12 feet from the screen surface. Instrumentation included a Minolta CS-200 color meter (NIST certified 12/2014) with a Quantum Data 780 generator and SpectraCal CalMAN 4 software.
The projector was an Epson PowerLite Home Cinema 3500.
After calibration of the projector to the screen, the grayscale Delta E measured on the DarkStar® 9 averaged an excellent 1.96, mainly pre- cipitated by an error of 5.22 at 20 IRE (20% brightness) that gave the overall average quite an uptick. Given the Epson's inability to go com- pletely black, I didn't measure at 10 IRE and would not attribute this 20-IRE error to the screen. (Delta E is a figure of merit indicating how close the result comes to the D65 (6,500-K) color standard, with values under 3 to 4 generally considered undetectable to the eye.)
Screen luminance and color temperature were measured at the screen center and several target points across the screen, as shown in the chart. For each screen target, the meter was placed 12 feet away and directly head-on and perpendicular to the target point, then moved off axis in the direction indicated by first 15°, then 30°.
Luminance with a 100-IRE Full Raster pattern measured at screen center from straight on registered at 21.67 foot-lamberts and 6,511-K color temperature.
While the Minolta CS-200 is a capable field instrument for the purposes of video calibration, the chart readings are strictly for comparisons. They indicate exceptional uniformity for the DarkStar® 9, with virtually no falloff in luminance across the midsection of the screen and modest light falloff in the corners, which may be related to lens capabilities in the projector and not necessarily due to screen performance. Color temperature remained essentially stable at any point across the screen.
The readings from Center position suggest that viewers sitting up to 30° off axis from the sweet spot should see no drop in brightness or shift in color. The Bottom Center reading could only be taken from head on and from a 15° downward angle due to the steepness of the 30° angle from that target point. The dropoff of light down to less than 10 ft-L from –15° downward indicates the screen's optical filtering in play. Sitting on the floor would not be optimal for viewing such a screen.—MPH
Company Info
Elite Prime Vision®
(562) 483-8198