Saker Series Featured in EH's Best Home Theater Under $25K (Gold)
Product: Saker (SK135XHW-E18)
Company: Progressive Home Automation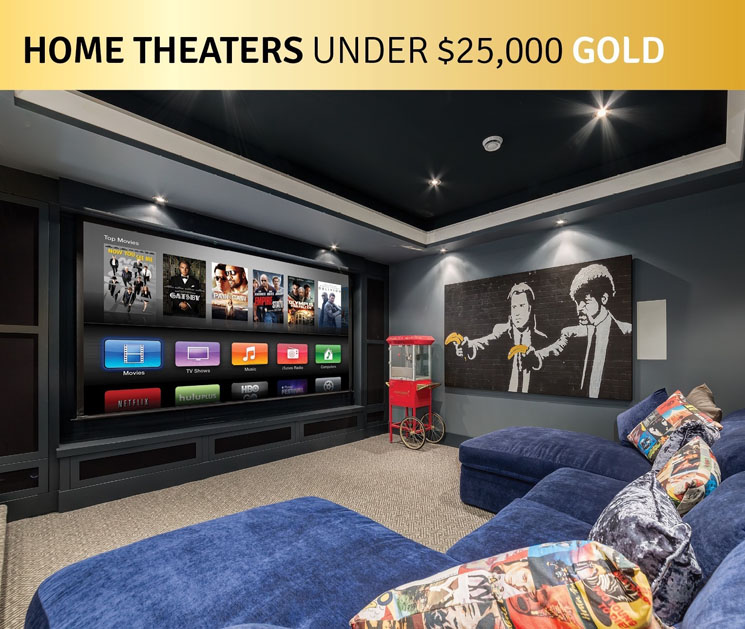 A THEATER ROOM THIS GOOD-LOOKING for under $25,000? It looks like it could have cost a lot more. And with a 135-inch motorized screen, a 1080p video projector, and some pretty serious automation, it's easy to assume this was a pie-in-the-sky project. As was the intent of the builder and home systems integrators, it proves that you can have a great home theater experience without an uber-big budget.
Urban Image Fine Homes, of Calgary, designed this contemporary show home in the trendy Kensington section of town to be a model of sorts for the builder, and to show off some home technologies, like automation, music systems—and of course, a rockin' home theater. The home systems integrators from Progressive Home Automation, of Calgary, regularly take prospective clients through the house to demonstrate the benefits of new technology.
When selling a house or a home theater, first impressions can make or break the deal. Progressive Home Automation employed clever automated lights to set the tone right away. As a visitor steps into the theater, a pressure sensor trips, which signals the room's LED lights to softly illuminate the cove ceiling. "They come on just bright enough so that users can see the room's control keypad or on-wall iPad dock," says Progressive owner and project manager Ryan Lowe. An on-wall keypad from lighting and control company Vantage presents buttons for favorite activities, like Movie, TV, Game, or Relax.
The Movie scene signals the recessed lights to gradually fade over 30 seconds, providing just enough time to get comfortable in a theater seat. Also during the 30-second prep, a 135-inch Elite Screens motorized screen descends from a hiding spot in the ceiling, an Epson projector fires up, and the Blu-ray Disc player activates. Viewers can also choose video from an Apple TV or two cable boxes.
From this point on, an Elan g! handheld remote or an iPad running the Elan g! app can be used from the couch to zip commands to the theater lights and A/V equipment (as well as to the lights, thermostats, and A/V components elsewhere in the house). Tap the TV button, and the lights brighten slightly to accommodate a more active viewing experience, while Game switches off all but the room's accent lights. Finally, there's Relax, which adjusts the lights to an 80 percent intensity level—a good setting for socializing and reading. Of course, there are times when a viewer might need to adjust the lights differently than what these presets dictate, and that's done easily enough by using the remote.
Extra on the Audio
The builder of this show home in Calgary already had a projector and screen he wanted to use, so Progressive Home Automation, of Calgary, opted to spend more on audio quality and chose Sonance LCR Cabinet Speakers for the three front speakers situated below the screen and Sonance SUR1 Surround Speakers on the side and back walls, plus two Sunfire HRS-IW8 dual 8-inch in-wall subwoofers located behind the couch. The speaker setup works in concert with a Yamaha Aventage RX-A1040 A/V receiver, as well as individual Sunfire HRS-IW8 amps to deliver 520 watts of boom to each of the subwoofers, with control through Elan g! system.
Lowe says that despite being wedged tightly against the couch, the subwoofers aren't too loud, and that the fabric and padding help temper boomy bass. Yet, they still provide enough vibration to the seats so that viewers feel the impact of a movie's action scenes.
So where did the team manage to save some cash? The Elite screen and Epson LCD projector were components the builder already owned, and Progressive saw no issue with using them. "Elite may not be the most expensive screen, but it's still pretty good quality, and we've worked with it before," says Lowe. He also says the Epson LCD projector performs well. "A lot of our clients just want to put in the biggest TV and don't want a projector because they've experienced poor quality in past. But the projectors have become better and better." Remember, too, that this is a show home, so while the video should be bright and clear and pop, it needn't be videophile-grade to make a good impression on most homebuyers.
The front of the theater and the motorized screen backs up against the home's equipment room, which houses a Blu-ray player, close enough so it's not inconvenient to load discs. "The main reason we chose the rack as the Blu-ray location was so that the Blu-ray could still be part of the multi-room video distribution system and be viewed on TVs in all rooms of the house," says Lowe.
Click Here to Read More About this Award