Church Production Magazine QuickStand 5-Second Review
As Summertime leads into the coming holiday season, it's important to have the right gear for a large venue projection display at the coming festivities. Church Production's Mark Hanna put the QuickStand 5-Second series through its paces commenting on its easy use and the convenient answer it provides to tough staging situations.
Please click on the text here or picture above to see the full review
Please take a moment to visit the site, see the videos and feel free to ask questions.
Warm regards.
-Dave
Dave Rodgers
Marketing Manager, Elite Screens Inc.
About the QuickStand 5-Second Series
The QuickStand 5-Second Projection Screen is a free-standing "pull-up" stage projection screen for large venue presentations where wall or ceiling mounted screens are impractical.
Its innovative dual cross spring mechanism supports the Greenguard® Gold (UL2818) Certified MaxWhite® FG 1.1 gain material. It is encased in an ATA wheeled aluminum stage case with drape kit included.
About the Church Production Magazine
Church Production Magazine is the leading educational magazine for houses of worship covering audio, video and lighting technologies. CPM is now published 10 times per year and targets technical directors and other key technology decision makers at production-oriented houses of worship.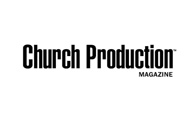 For more information about Elite Screens, please contact us at:
email. info@elitescreens.com
tel. 877-511-1211