VMAX Dual® Projection Screen Alternates HDTV and Widescreen Aspect Ratios
VMAX Dual® Series is an electric projection screen that actually contains a pair of alternating materials with either a 16:9 or 2.35:1 aspect ratio.
The screen comes as a fully assembled, "plug & play" product. It is equipped with a full installation package including L brackets as well as a Radio Frequency remote control. A simple click of the button allows you to use whichever aspect ratio you need. It even has a wireless 12 volt trigger to coordinate your screen's rise and drop with the projector's power cycle. The VMAX Dual® is available with a standard 1.1 gain matte white material. Sizes range from 100″ (16:9) & 95″ (2.35:1) to 120″ (16:9) & 114″ (2.35:1)
There is also a tab-tensioned matte white variant in the form of the Vmax Tab-Tension Dual projection screen.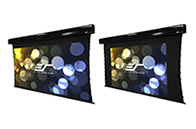 Please contact us with any questions about our innovative new solutions in projection technology.
Best regards.
-Dave
Dave Rodgers
Marketing Manager, Elite Screens Inc.
To learn more about our various lines of projection screens, please contact us at:
email: info@elitescreens.com
tel. 877-511-1211