Aeon AR120DHD3 Ambient Light Rejecting Screen crushes Ambient Light in Sioux City Residential Media Room
Date:  Mar. 28, 2017
Location:  Sioux Falls, SD
Product: Aeon Series (Cinegrey 3D®) AR120DHD3
Installer: Rick (Residential)
Customer Comment – "One big benefit of this screen was that it is edgeless. and that it supports 3D and that its 120″ and fits on my wall perfectly".
[yotuwp type="videos" id="2qwAlPZGbQE" ]
Like so many Americans, Rick of Sioux Falls, South Dakota has created a home theater – media room for his family, friends, and his own enjoyment. Some church-style pews serve as a convenient seating arrangement, especially for larger household gatherings. With a little bit of old and new brought together, Rick has very effectively put together a big screen display the whole neighborhood to enjoy.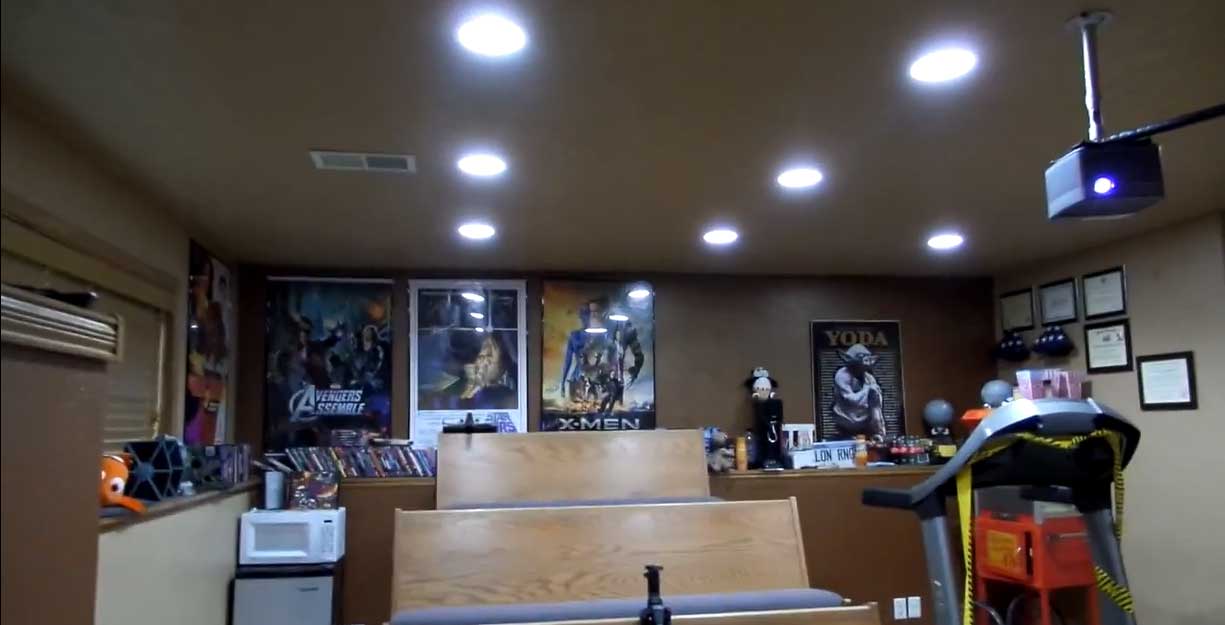 The main attraction of this suburban media room is an Xqimi H-1 Home Theater Projector and a large 120" Aeon CineGrey 3D® Series projection screen from Elite Screens. The H-1 series really is a very good projector.  Its performance specs include a 0.47" DMD RGB-LED display technique with a high transmission coated lens. With Full HD (1920 x 1080) resolution; 10,000:1 contrast ratio; a 120% NTSC Color Gamut, and 98% luminance uniformity, the Xquimi H-1 proves itself as money well spent. However, with only 900 lumens in its output, this projector will need a little help against the washout effects of ambient light.
Enter the Aeon CineGrey 3D® Series of ALR (ambient light rejecting) projection screen. The angular reflective material diverts the washout effects of ambient light away from the viewer's line of sight. It boosts picture boldness by enhancing dynamic range (black levels) with superb color temperature neutrality that has earned it the  prestigious ISF certification from the world renowned Imaging Science Foundation.
"As you can see, the colors are really clear…I really love this screen", said Rick in his video testimonial as he showed close-up images of nature and floral content. He points out the various features such as the removable edge bezel and LED backlighting kit that come with the screen. Most astounding was the actual screen performance with the room's overhead LED lighting at full power. The screen looked like a TV flat panel display…in 120"…at a tiny fraction of the cost a 100" flat panel display goes for.
"It's ideal for parties or watching some videos, maybe some karaoke", he said while operating the various colors and modes that the led kit is capable of doing. While walking the viewer through the various assembly tips and assuring that the simple construction makes assembly easy, Rick went on to say that "This is a really good screen , I'm happy I bought it, and would recommend it to anyone else."
*Editor's note: Creating great memories is part of the good stuff in life. My favorite part of this job is getting to make and sell the "toys" that help in making those good memories happen. Elite's Aeon CineGrey 3D® Series adds an element of performance to the personal big screen theater and I hope that if you don't get your gear from us, please get it somewhere.  It's a fun pursuit that will give a full sense of enjoyment that you, your family, and friends can all share in. Reach out today and bring home the big screen.
-DR