Dual Purpose (Two-way) Projection Materials are Better Than Standard Matte White & Rear Projection Materials. Here's Why…
Projectors are more affordable, compact, and easy to manage than ever before. This means that portable video presentations are becoming more sophisticated and more common.
For this reason, consumer electronics shoppers always have their feelers out for the latest innovation to make their "large projection experience to-go" more interesting and more innovative. Aside from portability, the greatest challenge to one-way projection screens is that the viewer must be in front of the screen to enjoy the show. Although rear-projection screens are the perfect solution for events with high foot traffic occurring in front of the display itself, the image on the "rear-side" of the material is not so good.

*Note: The WraithVeil Dual material on the  Yard Master 2 Dual gives equal brightness when projecting from either the front or rear.  This is ideal for a variety of purposes.
Why "Dual" (2-way) projection screens are better than" Matte White" Front Projection materials
Although Matte white material (left) has a slight brightness advantage, it has no rear projection capability and there is no visible image on the other side. The Dual (2-way) material looks the same on the other side.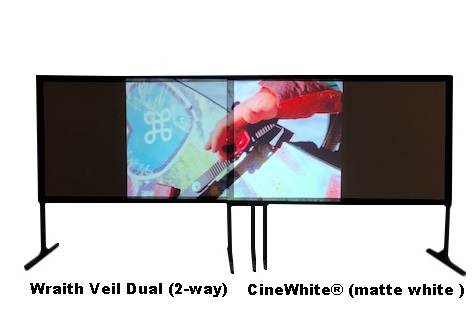 Why "Dual" (2-way) projection screens are better than Rear-Projection materials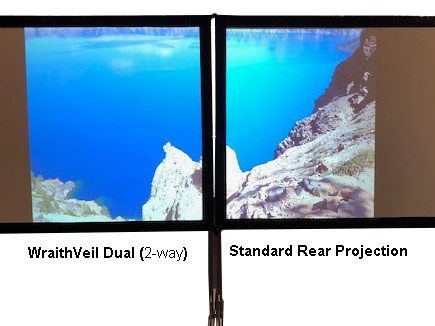 Rear Projection materials present well but underperform in 2-way picture quality
Rear Projection materials do not work well with front projection if the need calls for it.
The solution is to make a material that does both.  "Dual" or 2-way projector screens are a must for large venue presentations and the YardMaster 2 Dual is the ideal product.  The free-standing screen features a durable aluminum folding frame design, two-way (Wraithveil Dual) projection material and is available in sizes ranging from 100" to 180" with the universal 16:9 (HDTV) aspect ratio.  It handles the wide spectrum of issues typically encountered with large venue presentations and when all is done, it's light design packs away in a soft carrying case.
The WraithVeil Dual presents equal brightness with either a front or rear-projection setup. (Below)

Here is a list of the various challenges faced by portable presentations and how the Yard Master 2 Dual handles each of them.
Large portable venues are a logistical nightmare. For this reason, a portable projection screen's design must be portable in order to be brought in, set up, and taken down quickly with zero margin for error.  Failure is not an option here so the design must be simple and unlikely to malfunction.   Unpack the screen from the bag; unfold the frame; and attach the material. Unlike other indoor/outdoor portable screens, the Yard Master 2 Dual is not inflatable so there is no risk of the fan breaking down or in dealing with a leaky balloon construction.
Don't count on power sources to be there.  Perhaps an extension cord is available for the projector but in many cases, even that is not an option.  Fortunately, today's projectors have either their own power source or can be connected to a portable power source.  The Yard Master 2 Dual's design is completely non-electric so it consumes none of the resources that your projector, media player and speakers require.
Dynamic versatility of front or rear projection.  Traditionally, matte white front-projection materials are used with portable projection screens.  This is a problem at big gatherings where there is not enough room for everyone to gather around only one side of the projection screen.  Matte white is also limited in its ability to enhance picture performance.  A two-way projection material such as the WraithVeil Dual is superior because it enhances picture performance while allowing the presentation to be seen with 360° visibility so nobody is left out.
Advantages of using "Dual" materials with rear-projection. – Setting the projector behind the screen ensures that passing foot-traffic does not disrupt the projected image because nobody is standing between the projector and screen.  Since there is no shadow effect from the crowd and the image is still visible with perfect clarity from every other angle, rear-projection is often the primary choice of traveling presenters and rental & staging professionals. However, the (two-way) feature is what still makes the WraithVeil Dual superior to even the best rear-projection materials in the industry today.  With this versatility and the Yard Master 2 Dual's free-standing design, there is no reason why all eyes in the crowd to be on the big picture.
Whenever planning a portable screen presentation, stay focused on simplicity, versatility, durability, and reliability.  The Yard Master 2 Dual delivers all this to make sure each event it enhances will be as pleasant to the presenter as it is for those who have gathered to share in the experience.
-DR