VMAX Dual® Projection Screen in Corona Residence
VMAX Dual® Projection Screen in Corona Residence (VMAX100H95C)
Date:  April 2018
Location:  Corona, California
Event: Residential Installation
Product: VMAX Dual (16:9/2.35:1) Electric Screen
Video Link: (Click Here)
Dual-format projection screens are growing in popularity due to the sheer affordability of projectors today. When you consider the tradeoff between the cost of an 80" flat panel versus the cost advantage of a projector with screen that will create an image that is upwards of about 100 inches and beyond. What makes the VMAX "Dual" stand out from other electric projection screens is its ability to accommodate either a 16:9 (HDTV) aspect ratio, or a 2.35:1 (widescreen/Cinemascope) aspect ratio.
Aspect ratio is essentially the television or projector screen's shape. Think of the difference in shape between a laptop's image and that of a theater screen. Simply put, the aspect ratio clarifies that for every measured amount of horizontal width, there will be a corresponding number of equal units of measurement for height. In other words,16:9 means that for every 16 units of horizontal width, there will be a corresponding height of 9 equal units.
16:9 (HDTV) is the standard format of Television broadcasting. This makes it ideal for watching regular TV format, playing video games, and even formatting with laptop presentations that are typically 16:10 aspect ratio which is a close fit to HDTV.
2.35:1 (aka. 2.4:1, widescreen, or Cinemascope) is the screen size of today's movie theaters and film presentations. (*Note: It is much wider than HDTV.)
A customer in Chino, California reached out to us regarding the new VMAX Dual projection screen that he had installed in his house. Believing that a picture's worth a thousand words and a video says volumes, he invited Elite's video production team to come in and document the application as he demonstrated with his family how the screen is used.
The VMAX Dual incorporates 2-separate projection screens with motors in the same case and synchronized to interchangeably rise and drop to accommodate the projector as it alternates between its different uses in either a 16:9 or 2.35:1 aspect ratio. In the video content, it shows the kids enjoying TV and playing games in a 16:9 aspect ratio.  When dad arrives with Lord of the Rings, the interchangeable screens swap out so that the now 2.35:1 projection surface perfectly mattes the projected content with no special projector or accessories needed.
About the VMAX Dual®:
The product used in this video is a VMAX Dual VMAX100H95C electric projection screen. This model has two alternating screens in 2-different aspect ratios; 100" in 16:9 and 95" in 2.35:1. The product comes fully equipped with mounting brackets in addition to an RF and 12V trigger control kit.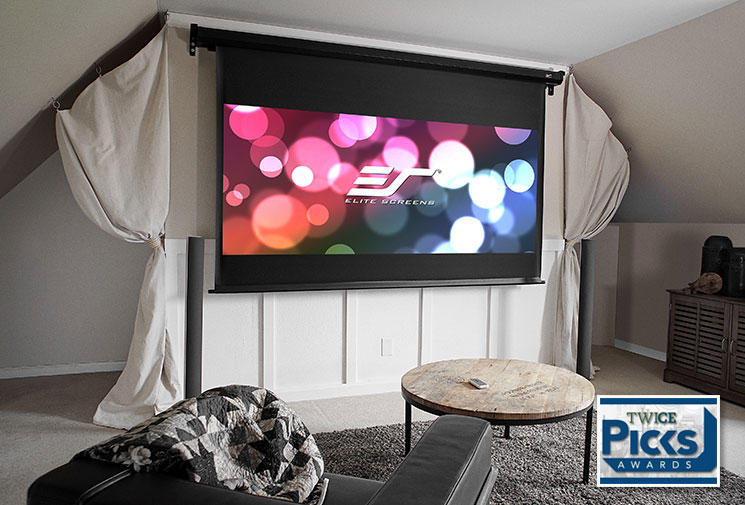 The VMAX Dual® offers a professional grade surface to match the abilities of anamorphic projectors. Anamorphic is the ability for a projector to switch from one aspect ratio (screen shape) to another in accordance with the type of presentation being shown. The VMAX Dual® utilizes two independently front projection materials and is compatible with all standard throw Home Cinema projectors. Available with MaxWhite® (matte white) and AcousticPro UHD (sound transparent) front projection surfaces.
–DR