Host The Blissful Bee and Popular Online Interior Design Expert Showcases Elite Screens' Aeon CineGrey 3D® in Her Latest Media Room Project
Product: Aeon CineGrey 3D® (AR110DHD3)
Reviewer: Amy Horany
URL: (Full Review)
Amy Horany is a popular Texas-based interior designer who selected an Elite Screens Aeon CineGrey 3D® projection screen to combat the washout effects of ambient light. The CineGrey 3D® material is ISF certified by the world-renowned Imaging Science Foundation for its ability to provide a bright clear image with superb color saturation, contrast, and black-white dynamic range.  Amy's quotations are as follows.
"One of the biggest challenges in our media room was finding a screen that would react well to natural light. Since most media rooms are dark with NO windows, that isn't normally an issue. But we wanted our media room to feel more like a family room. I wanted the room open to the kid's playroom, so we could watch the kiddos play in case they didn't want to watch whatever show or movie we were watching. I also wanted windows and natural light throughout, so it didn't feel like a dungeon when we were in there during the day. If y'all know me, y'all KNOW I love me some bright and airy rooms — even if it's a media room!"
After months of research and due diligence, Amy chose the Elite Screen's Aeon CineGrey3D® screen since it was designed to perform in high-light environments, just like hers.
"We have so much natural light in our media room, yet we're still easily able to watch TV in the middle of the day, just like a normal television." In regards to watching a projection screen during the day, Amy had this to say,

"I love how this light-reflecting technology makes our media room so versatile that we can actually use it at all times in the day, no matter how much light is shining into the room."
"An Interior Designer's Opinion on the Fixed Frame Aeon Design – Another feature we opted for was the fixed frame, which means it always stays displayed on the wall. I love this option because, like I said earlier, we wanted it to feel like a massive flatscreen was hanging on the wall at all times. Again, this is totally a preference thing, and for this room, a fixed frame is what worked for us." -Amy Horany
In addition to the screen's superb features and performance in a very bright room, the aesthetics were phenomenal regardless if the projector was on or off. An LED backlighting kit was included and this turns the screen into a very appealing source of mood lighting. Rather than just being a large blank canvas when not in use, the back lighting turns the screen into a very impressive decorative centerpiece. It is always pleasing to see a professional designer like Amy Horany put our product through its paces. In the process, it showcases the possibilities of an already impressive product.
Amy Horany (pronounced Aymee Hooray-Knee) has been a designer and blogger for many years. Amy's eye-for-design and passion for style has led her on so many adventures in life, and has ultimately lead her to launching her very own brand, AmyHorany.com. It is a design, style & family site with a goal to inspire her readers to live your own version of a stylish life.
The Blissful Bee, an interior design-focused blog that Amy launched in 2012, is still a popular site. Her work has been featured on Oprah.com, The Huffington Post, Porch.com and Apartment Therapy to name a few. She also runs an interior design business on the side, Five 12 Main.
Ceiling and Ambient Light Rejecting (CLR®/ALR) The Aeon Series is a fixed frame projection screen that uses Elite Screens EDGE FREE® technology. The EDGE FREE® design resembles a giant size flat panel TV display. The Aeon includes an ultra-thin trim as an installation option to further enhance the overall appearance.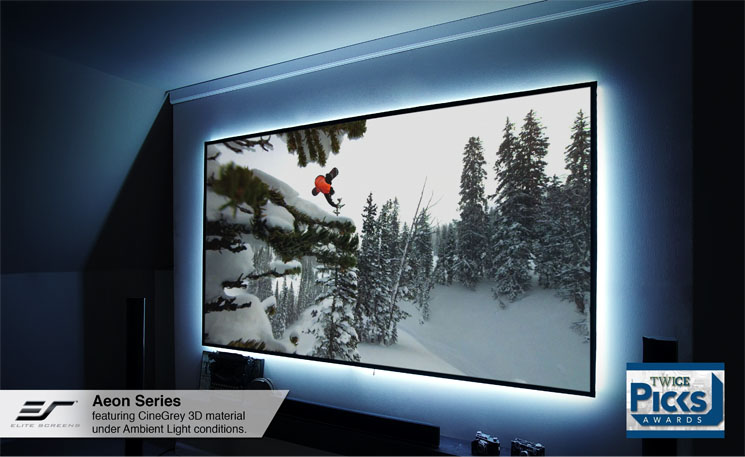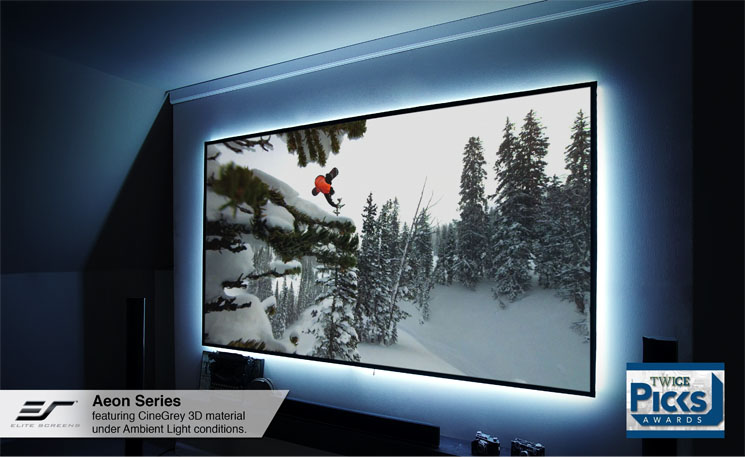 CineGrey 3D® is a reference quality front projection screen material formulated for environments with minimal control over room lighting. It was designed to enhance picture brightness, offer accurate color fidelity, and improve contrast levels. The CineGrey 3D® is best for family rooms, educational facilities, conference rooms or any applications in which incident light is a factor. Typical matte white surfaces wash out the images when ambient light cannot be controlled. The CineGrey 3D® is the best choice for having a projected image with a balanced color temperature and contrast under such conditions.