Newsletter : Elite Screen's Aeon CLR® Wins the 2019 Projector Central 2019 Best of the Year Award
Aeon CLR® is an EDGE FREE CLR® Fixed Frame Projection Screen that was Selected by the Staff of Projector Central for the Prestigious Award
The products culled below from the 40 or so products reviewed by Projector Central in 2019. All have a little something extra. Some feature innovations or cutting-edge technologies that broke new ground; others offer impressive build or image quality that blew us away; still others just delivered the kind of price/performance value quotient that makes them an easy recommendation.
About the Aeon CLR® Series: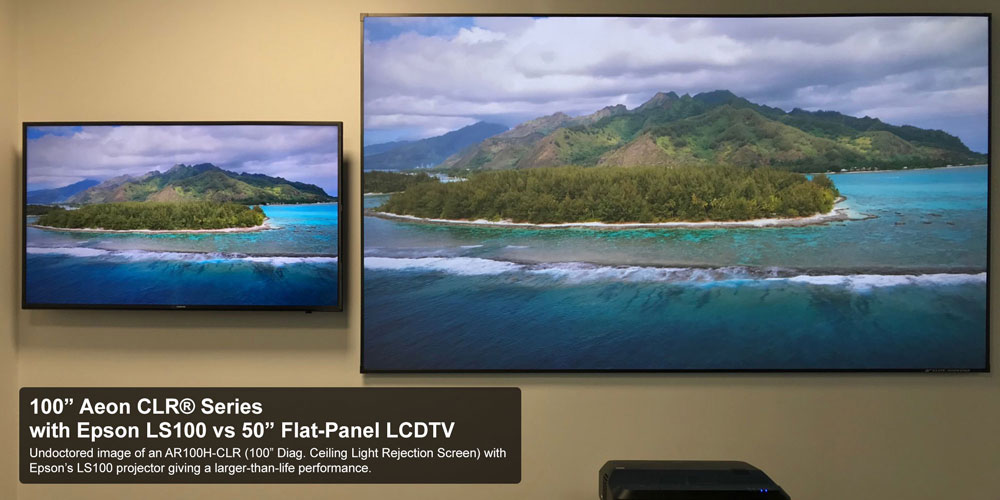 The Aeon CLR® is an EDGE FREE CLR® fixed frame screen that uses Elite Screens innovative StarBright CLR® (Ceiling Light Rejecting®) material.
(Click Here to read the full article)
Available Sizes:
AR90H-CLR – 90″ HDTV
AR100H-CLR – 100″ HDTV
AR120H-CLR – 120″ HDTV
Click Here for the Aeon CLR® Product Page
About Projector Central's 2019 Best of the Year Award
One of the benefits of watching and reporting on the projector market day-in and day-out at ProjectorCentral is that we get to look back at the end of each year and gauge the trends and stand-out products which, in hindsight, left an impression.
For the first time, we're delighted to share these observations in our inaugural ProjectorCentral Best of the Year Awards.