ProjectorReviews.com – Elite ProAV WhiteBoardScreen Thin Edge CLR® 2 Review
Product: WhiteBoardScreen Thin Edge CLR® 2
Reviewer:

Philip Boyle, ProjectorReviews.com

Full Review: Click Here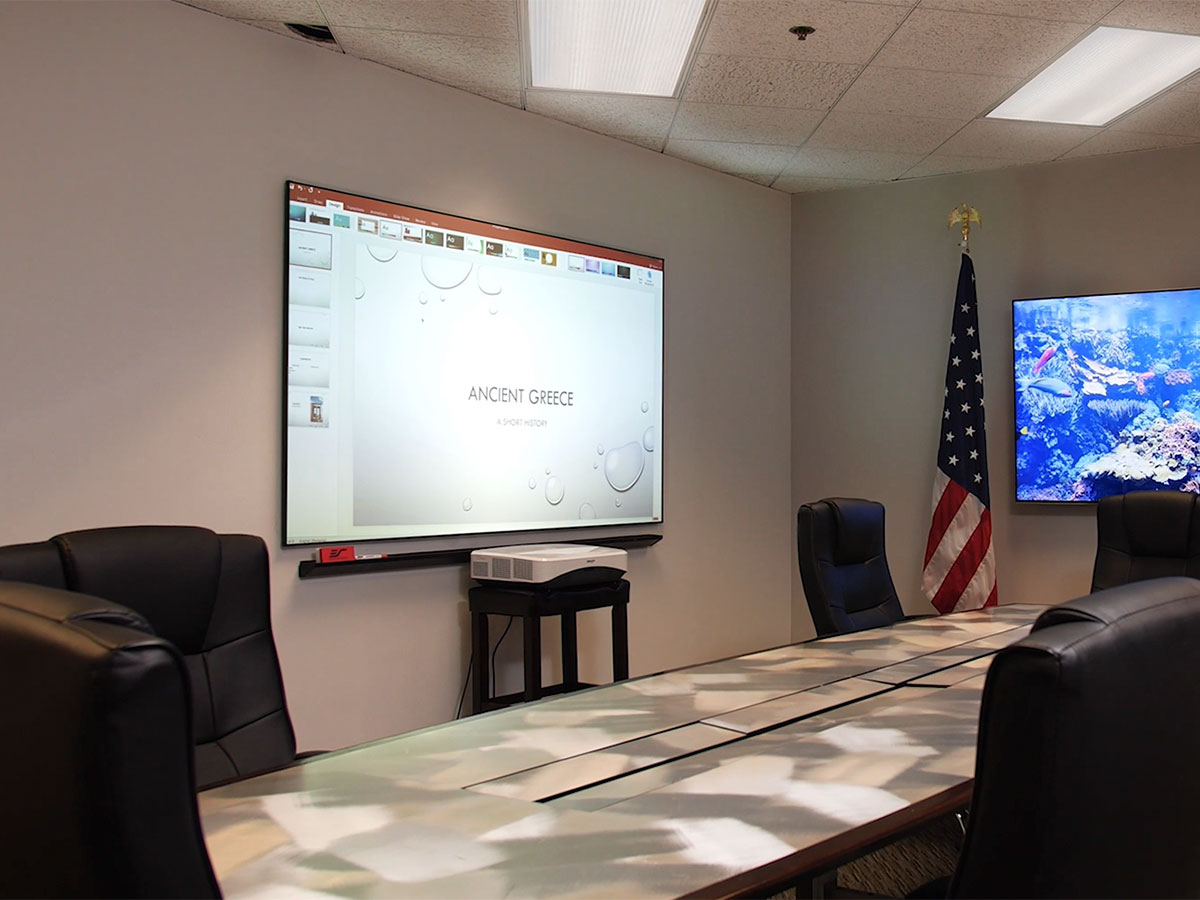 Elite Screens is one of the leading projection screen manufacturers in the industry. Based in the USA, their products are available worldwide. Elite produces a wide range of screens for home theater owners, educational institutions, and a multitude of corporate users. Elite's mission is simple: make cinema-quality projection screens for projector owners at practically any budget without compromising quality.
A good projection system should consist of both a projector and a screen. Even at the most competitive prices, the screen you choose should not be more expensive than a quality projector. Elite Screens feels that one of its key roles is matching customers with screens that will fulfill each buyer's requirements at a fair price.
Elite accomplishes this by mass-producing superior products in the most popular sizes and aspect ratios. In addition, these products use various formats that accommodate any environment, from integrated high-tech performance to portable, cost-effective solutions.
Elite ProAV® is a division of Elite Screens designing and building screens for business and education customers. Elite ProAV makes a wide range of commercial-grade projector screens, such as its WhiteBoardScreen™ Thin Edge CLR® 2 (Ceiling Light Rejecting®) Series, designed to meet multiple needs of its customers. The WhiteBoardScreen Thin Edge VersaWhite Series combination whiteboard and the screen is a dual-purpose product combining two large products into one—simultaneously saving space and providing a more collaborative experience in class and meeting rooms.
As if creating this dual-purpose product wasn't enough, Elite ProAV has also built a better whiteboard and a better projection screen in the process. Their certified products, which are compatible with building codes and a wide variety of programs, also include warranties and trained professionals available to assist installers every step of the way.
HIGHLIGHTS
Designed for collaborative classrooms, boardrooms, conference rooms, and training facilities
Combines a projection screen and dry erase board into one product
Scratch-resistant laminate coating
Compatible with tabletop ultra-short throw and short-throw projectors only
Included mounts permit wood stud installation with horizontal adjustment
CLR® 2 laminate coating absorbs 65% of overhead lighting
Improves brightness, color saturation, and contrast in rooms with uncontrolled ambient light
160-degree viewing angle (80-degree L/R)
The micro-filter structure allows for tabletop mounted ultra and short-throw projectors
4K/8K Ultra HD (High Definition) Ready, smooth, non-textured surface
ISF (Imaging Science Foundation) Certified for accurate color reproduction
Available screen sizes and aspect ratios: 90" at a 16:10 aspect ratio | 97" at a 16:9 aspect ratio | 107" at a 2:1 aspect ratio
5-Year Limited Warranty