Elite Screens Yard Master 2 screen review – A screen as big as all outdoors
Product: Yard Master 2 Series
Reviewer: Smythe Richbourg, The Gadgeteer
Full Review: Click Here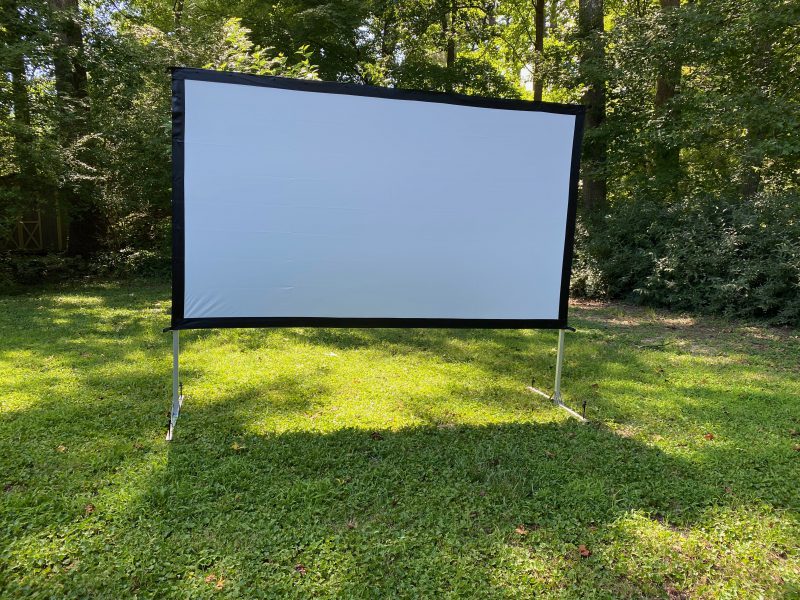 As we move into summer here in the Northern Hemisphere, more and more people are having outside get-togethers. If a movie would make a part of a good gathering for you, a sturdy outdoor screen will be in order. To that end, ProjectorScreen.com sent me the Elite Screens Yard Master 2 screen for testing. Between rainstorms, heat waves, and hurricanes, I was able to get it put up and tested. Let's take a look.
What is it?
The Elite Screens Yard Master 2 screen is a 120" diagonal 16:9 aspect screen mounted on an aluminum frame.
What's in the box?
Carrying bag
Frame in 3 major pieces
Hardware for assembly and stability
Screen in a protective bag
Stakes and cordage for securing the screen
Instructions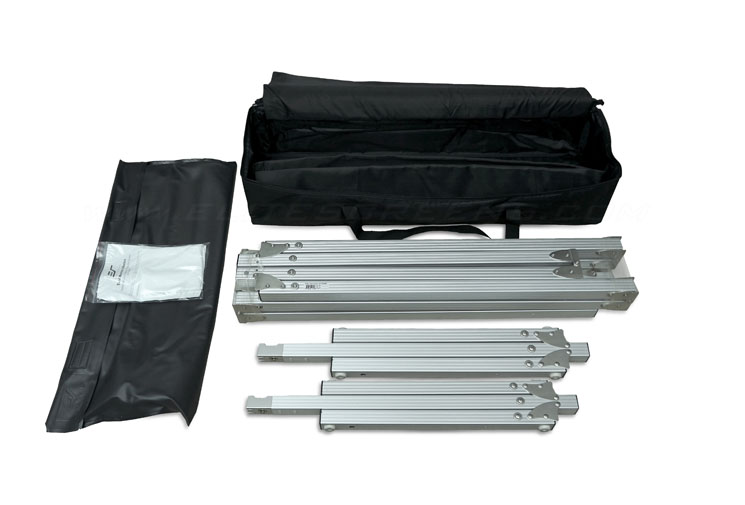 Design and Features
The Elite Screens Yard Master 2 screen frame is built out of rectangular aluminum pieces that are attached with steel hardware. The screen attaches to the assembled frame with riveted snaps that have a positive lock. These are spaced about 8" to 10" apart, depending on where on the perimeter they are. Midpoints and corners have closer spacing. Between those areas, the snaps are spaced a little more, but still serve the important function of preventing the screen from drooping.
The pieces for the frame lock together positively with a wide cam, and are secured with a solid lock. The lock is released with a button near the joint. These pieces are all heavy-duty – the buttons, for instance, are not little balls to hold in while assembling, but solid, spring-loaded buttons .375" in diameter that open the internal cam. It's an instant lock, but very easy to unlock.
The legs have hinged sections that have angle braces to hold them at a 90º angle. (There are also similar angle braces on each corner of the screen frame.) The legs and support pieces have plastic end caps on every piece, which will help prevent pinches and cuts, as well as deter bugs from getting into the frame. Note the Teflon™ floor guards, in case you are setting this up in a parquet-floored ballroom.
The Elite Screens Yard Master 2 screen arrives as a strongly-boxed parcel. I'm talking fiber-glass bands, and really dense cardboard. Inside the two thick cardboard boxes (yes, one inside the other!) is a tough nylon carrying bag that contains the screen and frame.
When you first open it up, it's quite daunting, but a quick look through the instructions shows it's quite logically designed. The screen material is protected in a separate zippered pouch, and there is a padded flap sewn into the large carrying bag that further protects it from damage from the hardware.
Once you've got the screen holder expanded, you attach the legs and screw in the eye-bolts to attach the (included) tie-down cords.
Setting up the frame will take 2 people, at least in the actual raising of the screen on the stand. It also takes two to lower it to the ground for storage. All the other assembly steps are easily carried out with one person. (In fairness, I did both of these tasks solo, but it would have been far less fraught with another person!)
I was sent the front projection model, but there are rear-projection screens available as well. They are available in many different sizes and in two different aspect ratios. The diagonal sizes are listed below:
90″, 100″, 110″, 120″ and 135″ in 4:3 format
55″, 58″, 90″, 100″, 110″, 120″ and 135″ in 16:9 format