Elite ProAV's Presenter Pro Riser CineGrey 4D is Reviewed by ProjectorReviews.com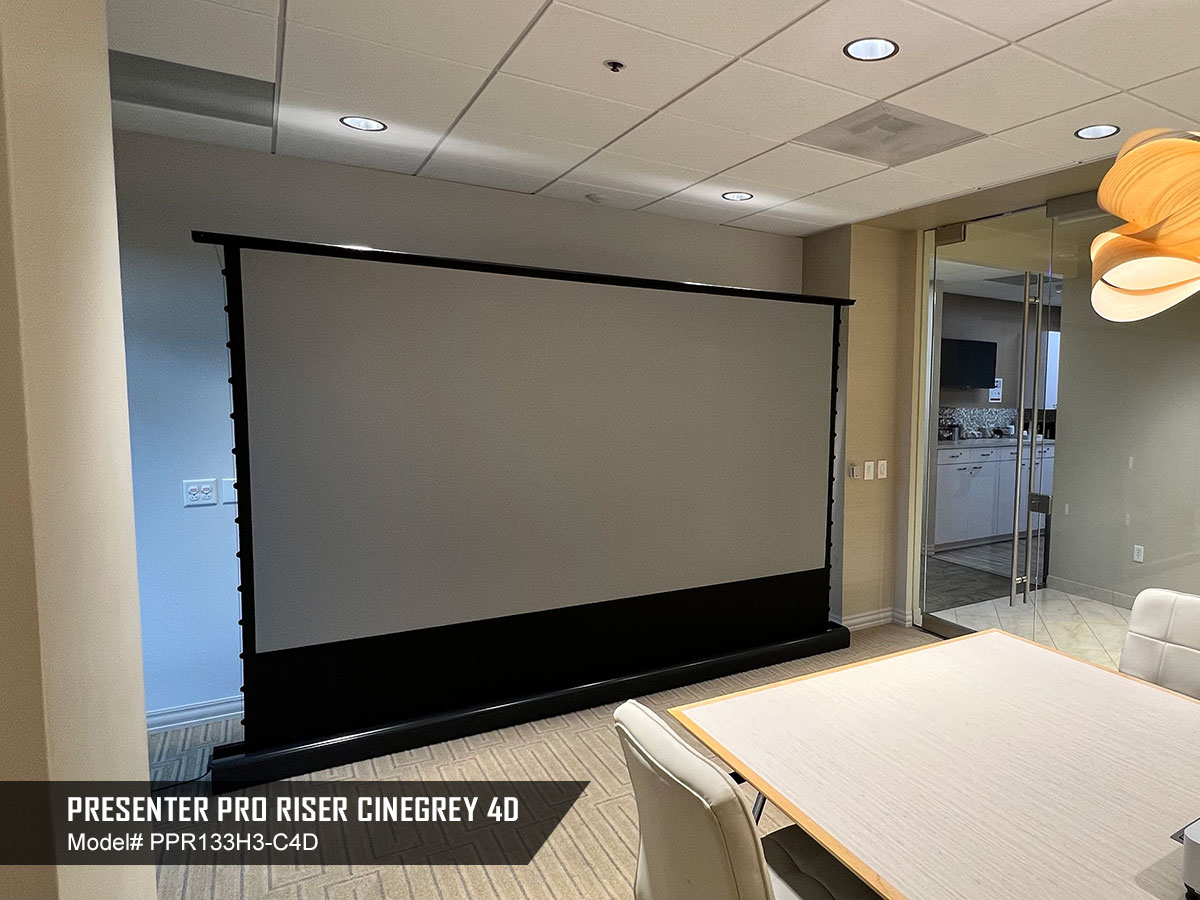 The Elite ProAV Presenter Pro Riser CineGrey 4D is a portable, motorized, floor-rising projection screen. The high-quality CineGrey 4D material is designed for standard long throw projectors and has a gain of 1.1, it can effectively eliminate up to 63% of ambient light. Because the unit is equipped with this ceiling light rejecting material, it's a great solution for any training or conference space where there is typically some ambient light.
The Elite ProAV Presenter Pro Riser CineGrey 4D screen is available in 126-inch, 133-inch, and 150-inch sizes. The screen is exceptionally sturdy and well built, and Elite ProAV includes a five-year warranty.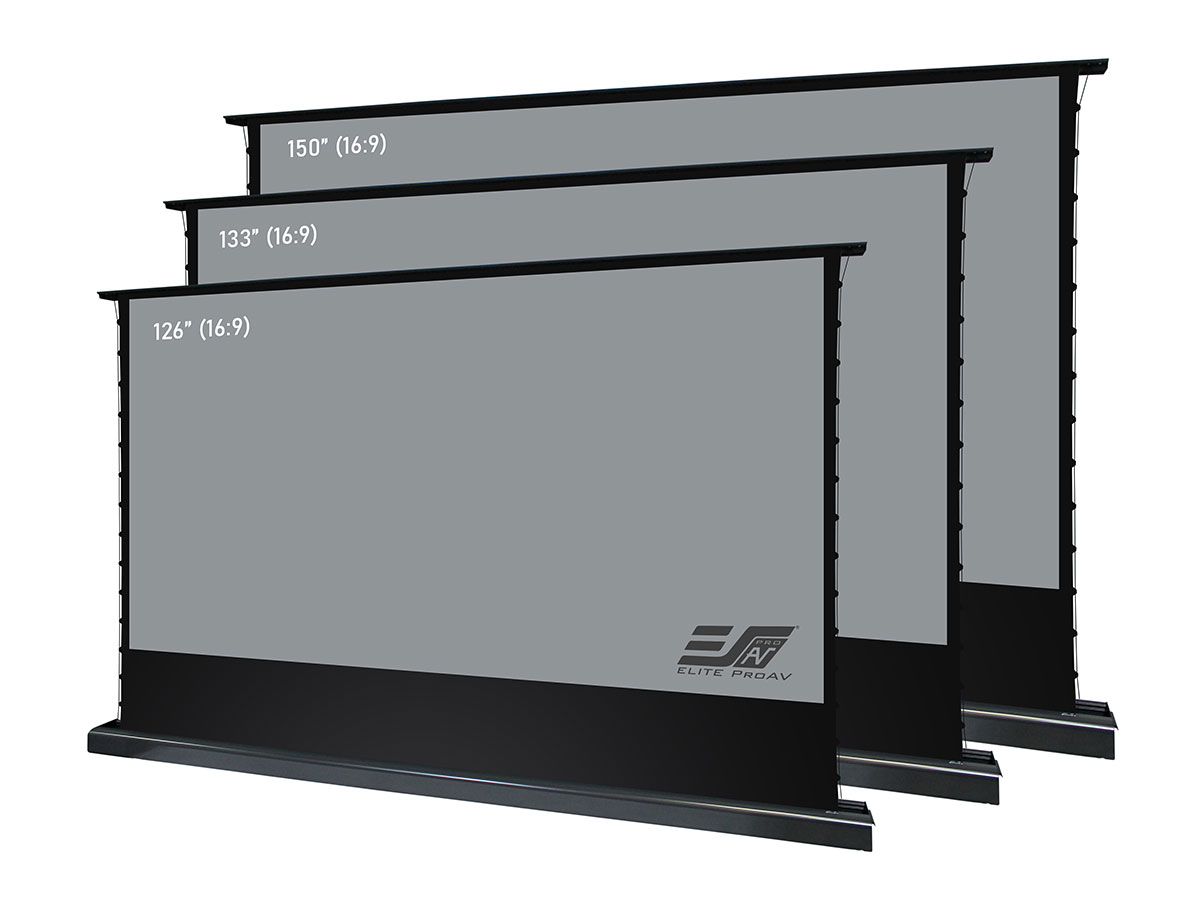 When it comes to projection screens, the options are nearly endless. Because each manufacturer offers fixed and motorized models in a variety of screen materials, it's easy to find a solution that best fits your needs. Over the years, Projector Reviews has evaluated many projection screens, but my favorite by far is electric, floor-rising models. If you had spent as much time as I have setting up projection screens at tradeshows, training events, and conferences, this type of screen would definitely be your favorite too.
THE BENEFITS OF A FLOOR-RISING MOTORIZED SCREEN
One of the main benefits of this type of design is a simplified and quick installation. Setting up a floor-rising projection screen takes only a few minutes which is a lot less time than assembling a normal, soft-fixed frame screen on any trade show floor. Elite ProAV Presenter Pro Riser CineGrey 4D eliminates the hassle of assembling a frame, rolling it out, and attaching the screen material. In comparison, to set up a ProAV Presenter Pro Riser screen, all you have to do is lift the unit out of the box, place it in the desired location, plug it into AC power, and press the UP button on the included remote control.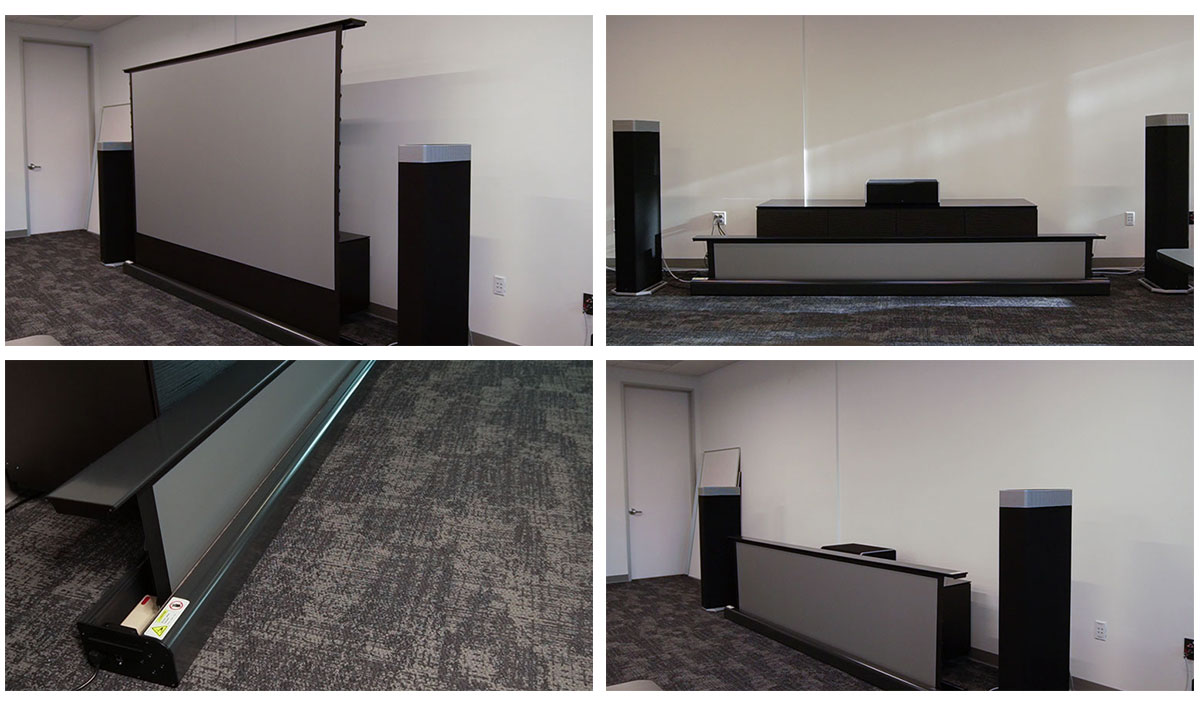 A preassembled fixed-frame screen is hard to transport, especially in sizes above 100-inches and they also require some sort of stand to mount them on. Many of these projection screen stands are wobbly and unattractive. A screen stand would also be required if you used a more traditional motorized drop screen. In a permanent installation, this type of screen would normally be hung on the wall or from the ceiling.
Presenter Pro Riser utilizes motorized scissor-backed cross spring risers and the tab-tension design keeps the screen material taut and flat, reducing any ripples that might distort the projected image.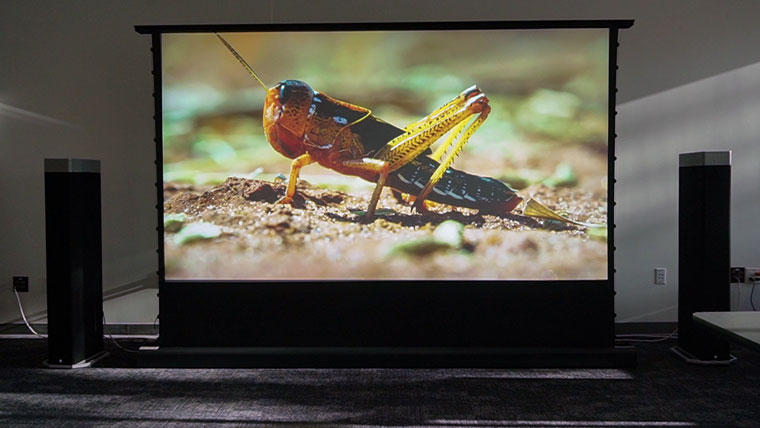 Even if you were going to permanently mount a motorized screen, you may still prefer to use a Presenter Pro Riser because it offers a potential reduction in the cost of installation. It eliminates both the need to run power to a wall-mounted screen and the hassle of securing the screen safely to the wall. You'll also get additional flexibility. The Presenter Pro Riser can quickly be moved from meeting space to meeting space and since nothing is permanently mounted or installed, it's an excellent option if you're leasing or renting your space. While the Presenter Pro Riser screen enclosure is long and heavy, there are carrying handles on both sides of the screen which allow two people to easily carry it.
While the screen was designed for use in medium-size meeting spaces, its high-quality image and unique form factor should also make it an appealing option in many residential applications. You don't have to be in a board room to appreciate a screen that disappears completely when it's off and doesn't require you to mount the unit to a wall or ceiling.