The Best Foldable Projector Screen for Gaming and Movies on the Go
Looking for the perfect foldable projector screen that allows you to enjoy your favorite games and movies wherever you go? Look no further! This article will unveil the best foldable projector screen–the Yard Master 2 Series–that combines convenience, portability, and exceptional picture quality.
Elite Screen's revolutionary foldable projector screen is designed specifically for gamers and movie enthusiasts who are always on the move. With its compact and lightweight design, you can easily set it up indoors or outdoors. This portable projector screen delivers an immersive and cinematic experience that will leave you in awe.
Featuring a high-quality fabric and an innovative foldable mechanism, this projector screen guarantees a smooth and seamless display, free from any wrinkles or creases. You can rest assured that every detail of your favorite movies and games will be beautifully showcased on this screen, taking your entertainment to the next level.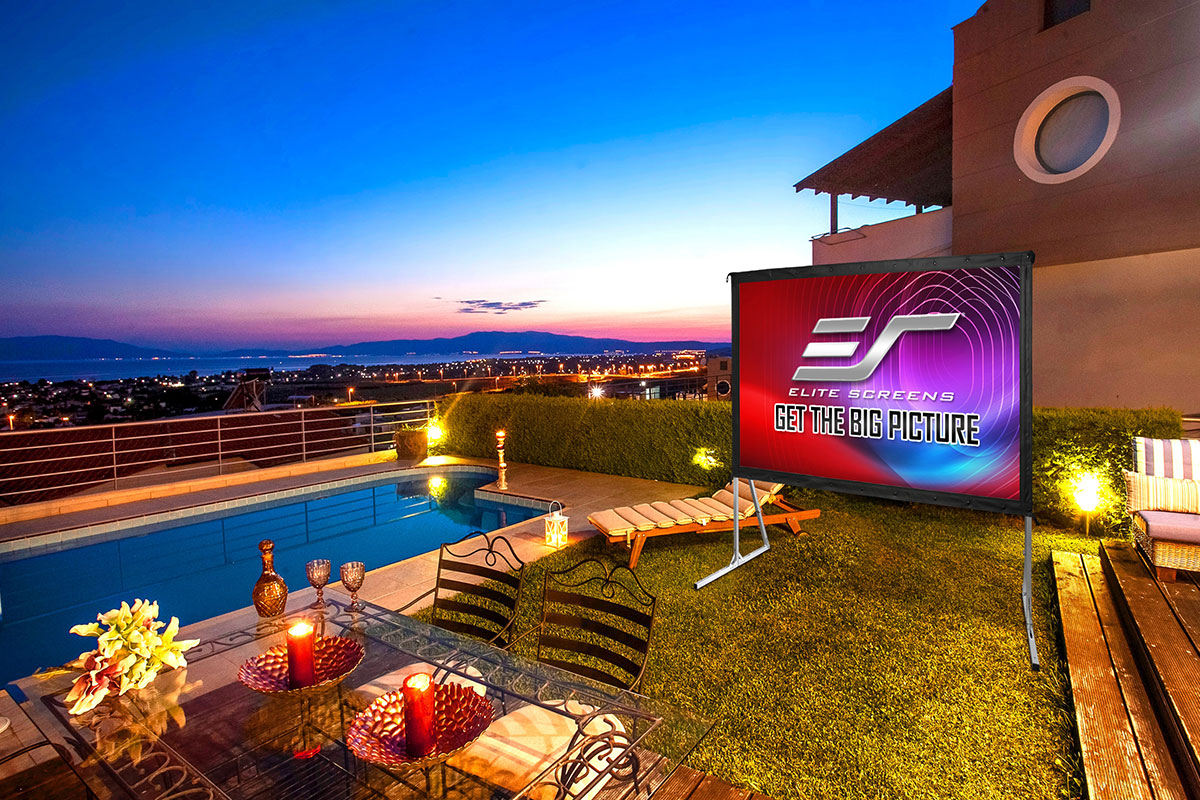 A closer look at the Yard Master 2 Series
The Yard Master 2 Series by Elite Screens is a highly recommended outdoor projection screen. Its fast folding-frame design and lightweight aluminum construction make it easily set up in minutes. The screen is available in various sizes and aspect ratios, catering to different preferences and needs.
The screen material used is the CineWhite® UHD-B tensioned matte white front projection material, which provides excellent picture quality for 4K Ultra HD, Active 3D, and HDR content. It also features black masking borders that enhance picture contrast. So this is not your ordinary outdoor ambient light-rejecting screen.
The design and operation of the Yard Master 2 are user-friendly, with corner pull-tabs and snap-button attachments on the material for easy installation. The aluminum square tube construction ensures durability, and the detachable AT legs are included for added stability. Stainless steel components make the screen corrosion-resistant and suitable for outdoor use.
The Yard Master 2 comes with additional support and stability features such as stakes, rope, and support rings, which are included in most models. A soft-padded carrying bag is also provided for portability.
Optional extension legs are available for increased height (sold separately) for added convenience. The Yard Master 2 Series comes with a 2-year limited warranty, with an extended 3-year warranty for ENR-G organizations. Elite Screens also provides lifetime tech support through email, phone, or online form, ensuring customer satisfaction and reliability.
Pros and cons of Yard Master 2 Series
Pros of the Yard Master 2 Series
Fast folding-frame design: The Yard Master 2 features a fast folding-frame design, allowing for quick and easy setup in just minutes.
Lightweight aluminum construction: The lightweight aluminum frame makes the projector screen easy to carry and transport, making it ideal for outdoor use.
Variety of screen sizes and materials: The Yard Master 2 offers a range of screen sizes and materials, including front and rear projection options, catering to different projection needs.
User-friendly design and operation: The screen is designed with features like corner pull-tabs and snap-button attachments, making installation and disassembly hassle-free.
Detachable AT legs: The detachable AT legs provide stability during setup and can be easily removed for more screen positioning flexibility.
Additional support and stability features: The Yard Master 2 has stakes, rope, and support rings to ensure stability, even in moderate wind gusts.
Optional extension legs: Extension legs are available as an optional accessory, allowing for increased height and versatility in outdoor projection setups.
Warranty and tech support: The Yard Master 2 is backed by a warranty from Elite Screens and lifetime tech support, providing peace of mind to users.
Cons of the Yard Master 2 Series
Less durable screen material: The screen material used in the Yard Master 2 is reportedly less durable than its predecessor. However, it is designed for easy cleaning.
Snaps might be problematic: Some users have encountered issues with the snaps when breaking down the frame.
Possible need for an adapter for international use: The product is designed for use in the US and may require an adapter or converter for international use.
Maintaining and caring for your Yard Master 2 Series projector screen
To ensure the longevity and optimal performance of your Yard Master 2 Series, it is important to follow proper maintenance and care guidelines. Here are some tips to help you keep your screen in top condition:
Clean the screen regularly using a soft, lint-free cloth or a screen cleaning solution. Avoid using abrasive materials or harsh chemicals, which can damage the screen surface.
Store the screen in a dry and dust-free environment when not in use. Keep it in its original carrying case or a protective cover to prevent damage or dust accumulation.
Avoid placing heavy objects on the screen or applying excessive force when expanding or retracting it. This can cause structural damage or affect the screen's ability to retract smoothly.
Check the screen for any tears or damages before each use. Contact the manufacturer for repair or replacement options if you notice any issues.
Conclusion
A foldable projector screen is an excellent investment for those who want to enjoy their favorite content on the go. With their portability, versatility, and ease of setup, foldable screens provide a convenient and immersive entertainment experience. Yard Master 2 Series is a top contender in the market today, offering a range of features to suit different needs. It can transform any space into a captivating cinematic or gaming arena!