How can we help you today?
Q: How do you decode model #'s?
Each Elite Screens' model number starts with the product series name. Follow by case color (if applicable, certain models only available in one color), screen material, screen aspect ratio and product series version. Lastly, extra black drop and its length (if applicable).
Here is an example.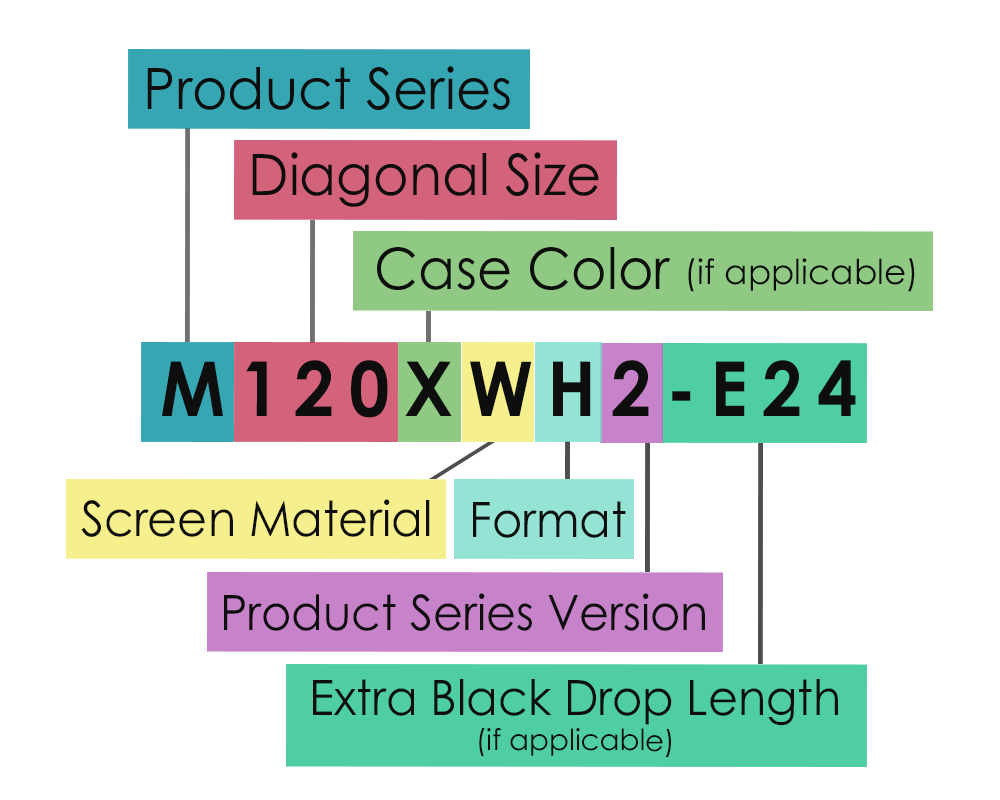 Codes
Samples
Product Series
AR : Aeon
CURVE : Lunette
DIY : GolfSim DIY ImpactWhite
DIYW : DIY Wall 3
EB : Evanesce B
ER : Sable Frame
ETB : Evanesce Tab-Tension B
F : ezCinema
FT : ezCinema Tension Plus
FTE : Kestrel Tab-Tension 2
HOME: HOME Series
IHOME : Evanesce
IRP : Insta-RP 2
ITE : Evanesce Tab-Tension
IWB : Insta-DE
LPS : Light-On
M : Manual
MT : Manual Tab-Tension
OMS : Yard Master
PC : PicoScreen
POP : Pop-up Cinema
QS : QuickStand 5-Second
R : ezFrame
RM : Designer Cut
SB : Sable Frame B2
SKT : Saker Tab-Tension
SPM : Spectrum
ST : Starling
STT : Starling Tab-Tension
T : Tripod
TE : CineTension
TT : Tripod Tab-Tension/Light-On
VMAX : VMAX 2
VMAXT : VMAX Tab-Tension
WB : Dry-Erase WhiteBoardScreen
YMS : Yard Master Sport
Diagonal Size
120: 120" Diag.
Case Color
(if applicable)
If applicable, certain models only available in one color
U : Black
X : White
Screen Material
A1080P3: AcousticPro 1080P3
AUHD : AcousticPro UHD
W: MaxWhite® FG Material
Format
(Screen Aspect Ratio)
V : 4:3
H : 16:9
S : 1:1
C : 2.35:1
Product Series Version
1: Version 1
2: Version 2
Extra Black Drop Length
(if applicable)
Extra black drop and its length (if applicable)
-E24 : 24″ extra drop