What is Ultra-Short Throw Projector? – MosicGO®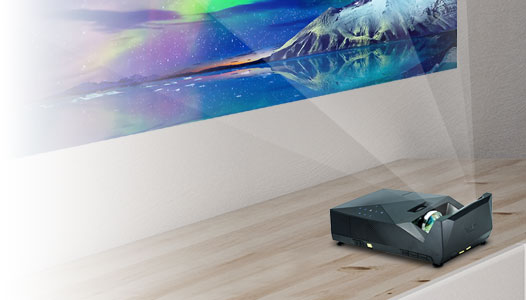 Ultra-Short Throw Projector
UST projectors are the latest concept in projection versatility. They are designed to be positioned flush with the screen and still create a huge image. Pull it back a few inches and the picture nearly doubles in size. These typically have a reflector lens to spread out its light signal over a minimal distance.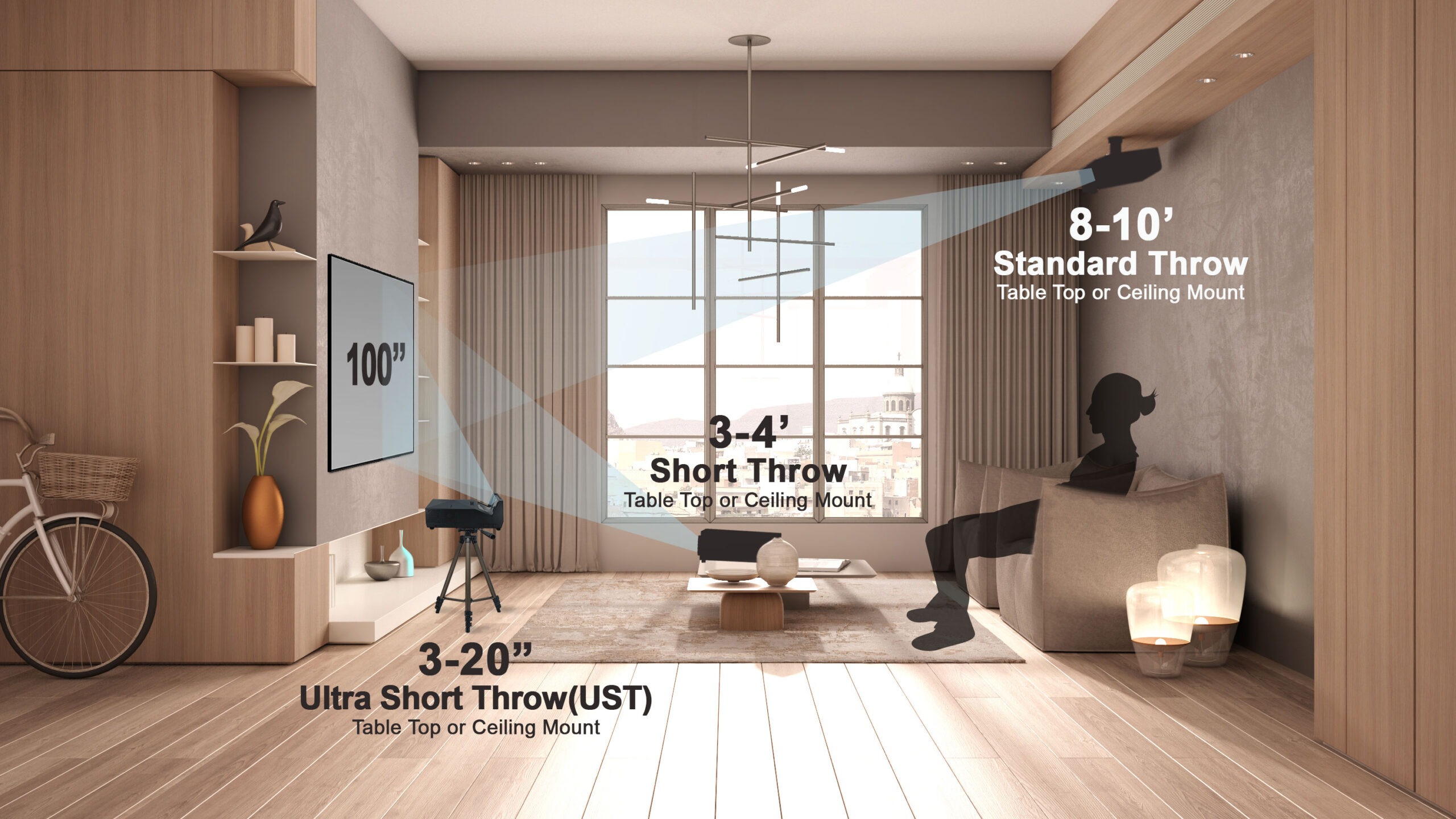 Throw Distance Comparison
Ultra Short-Throw Projectors : About 3-20 inches (8-50cm)
Short-Throw Projector : About 3-4 feet (90-120cm)
Standard or "Long Throw" : About 8-10 feet (244-305cm)
Throw Distance for a 100" (16:9) image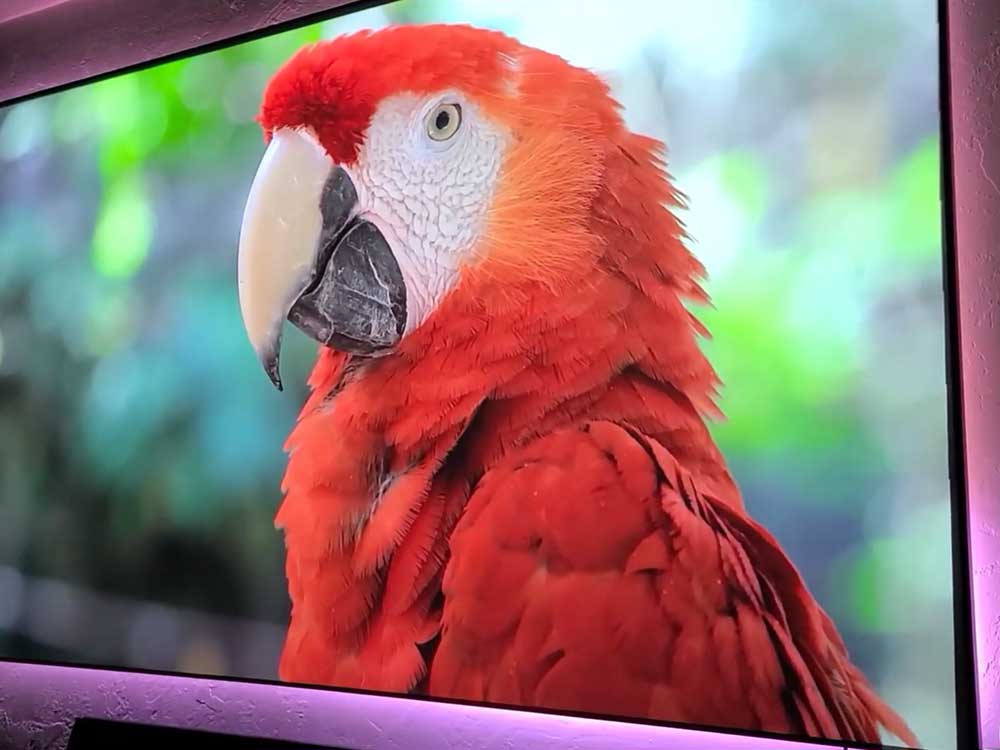 Because shadowing is minimal, they are typically used in interactive whiteboard displays an there is no possibility of foot traffic passing between the projector and screen. This is also the main reason why UST projectors are gaining in popularity with residential applications as well.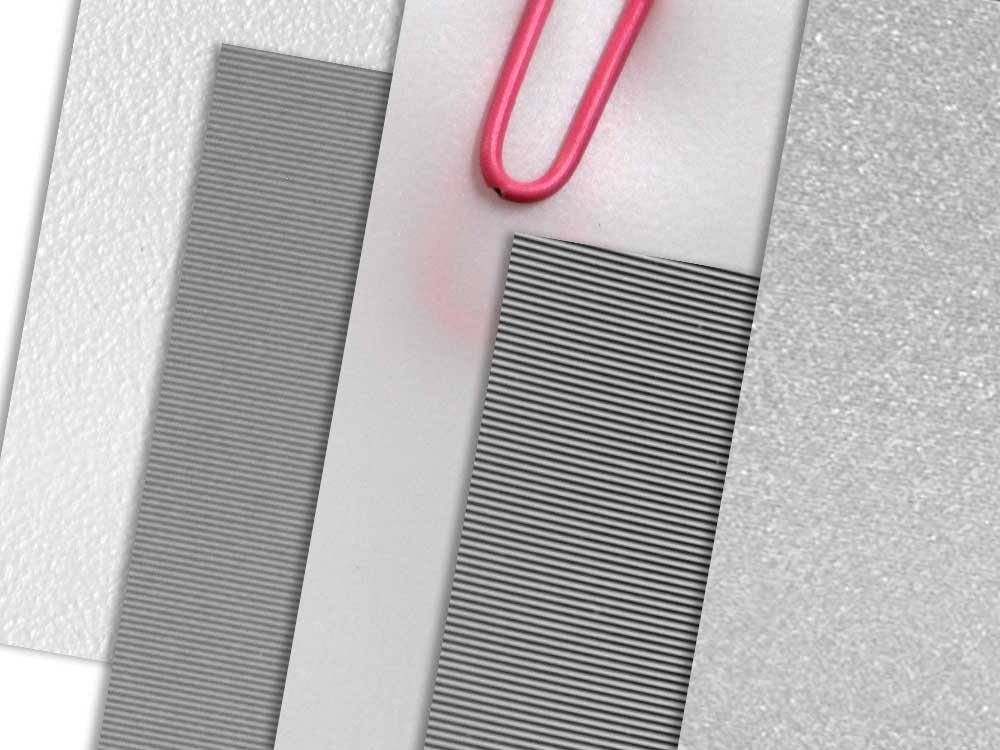 Like the short throw projectors, these screens are only compatible with perfectly flat projector surfaces. Although they don't work with the standard ALR materials, there is a new CLR® (Ceiling light rejecting) or ALR-UHD materials that allow them to assume the appearance of a large TV display in either bright or dark rooms.
EliteProjector MosicGO® Outdoor/Indoor Portable Projector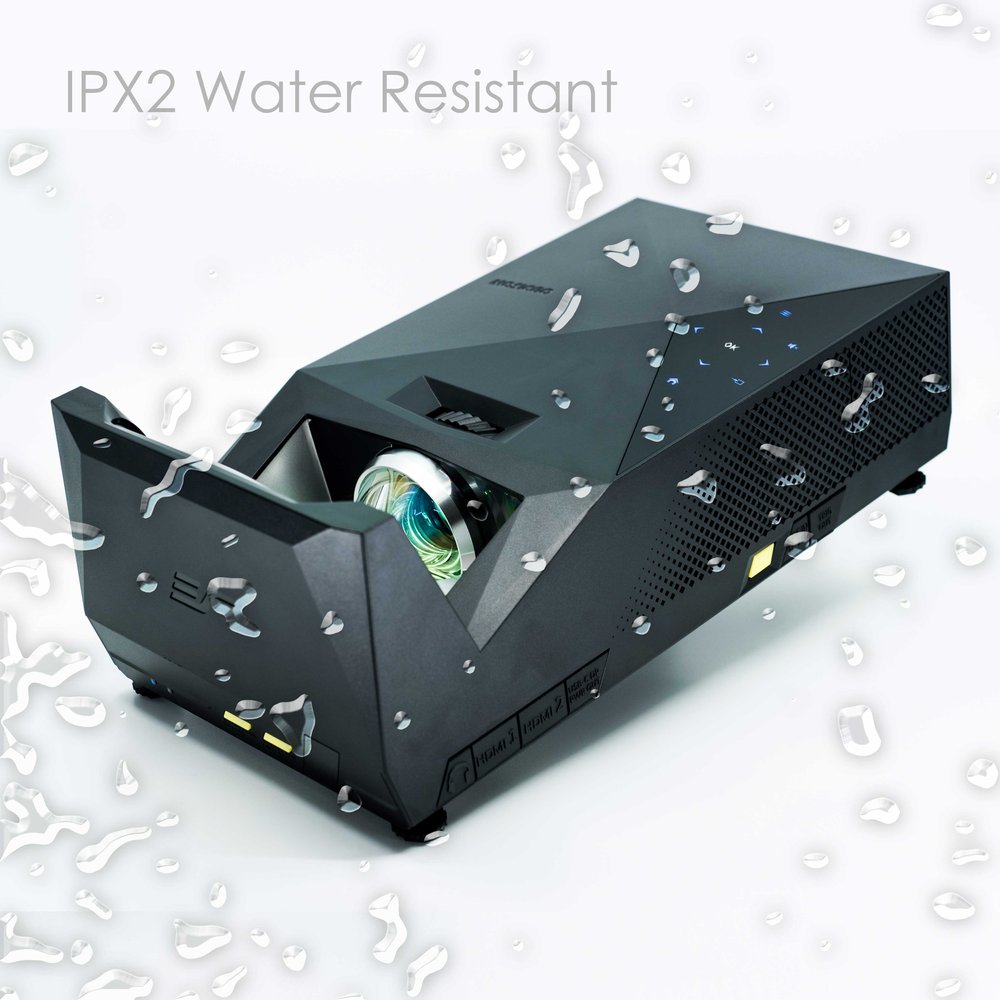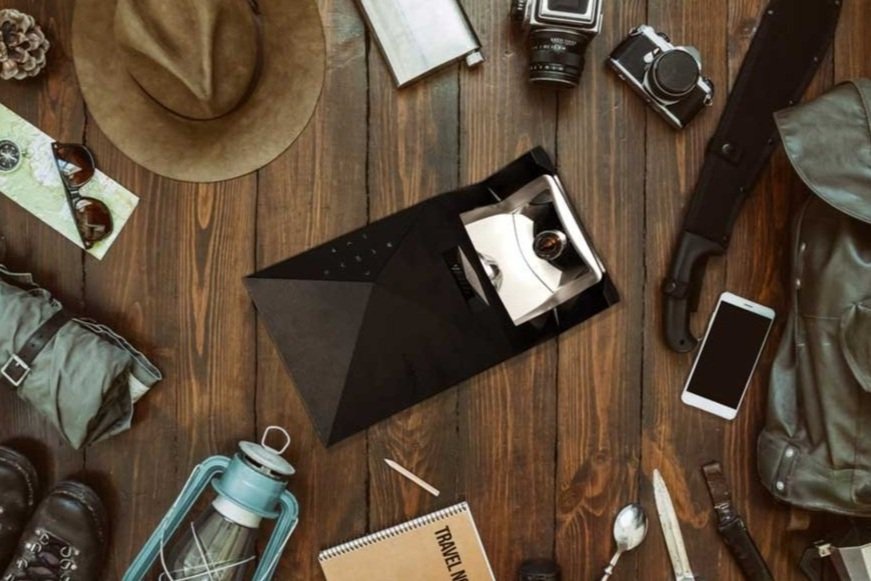 IPX2 Water Resistant Ultra Short Throw (UST) Projector W/Built-in 37200 mAh Battery/Power Bank (Sport ver. Only)
Incredible Projector and Screen

My husband and I bought this water-resistant projector and screen as we do a lot of backyard entertaining and go RV camping a few times a year up in the Pacific Northwest where it's usually damp and raining.With our fancy100 inch screen, we expected to take a while to assemble. To our surprise, it was very straightforward to put together and we didn't even need the instructions. After that we sat down and thoroughly read the user manual while we had the unit and remote control in front of us. The projector is very well designed but takes a little patience and playing with to fully understand how the short-throw works and all its capabilities.We used it through an Amazon fire stick to stream movies and it had amazing HD picture quality and virtually no streaming delay. Also, the built-in speaker sounds pretty amazing. As a matter of fact, when we just got it to work, we couldn't believe it sounded like from our stereo system.We both highly recommend this projector and screen and look forward to many years of use.
– Amazon Customer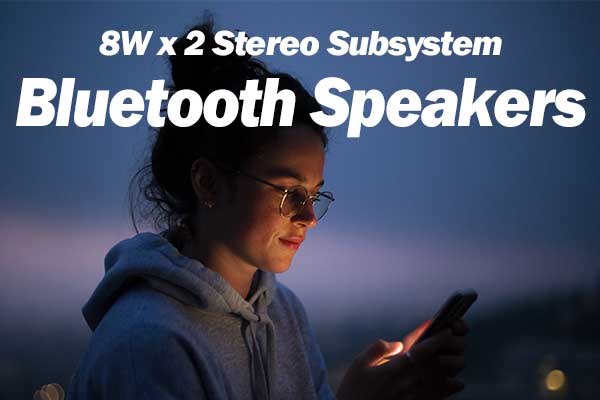 Wireless MSS 8W x 2 sound system with high efficiency Class D amp enhances dynamic range, aluminum diaphragm for fast response, smooth high to 20K Hz and SpeakerGuard ™ overload protection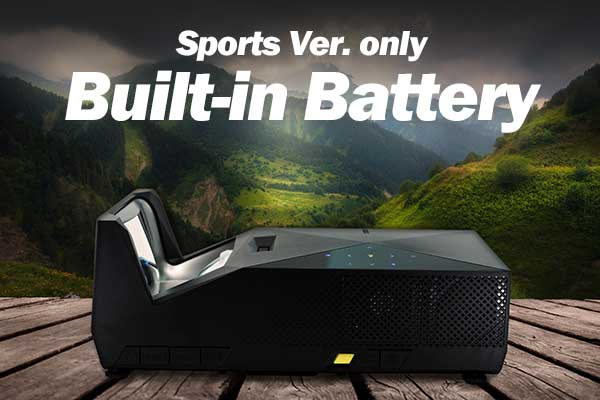 Integrated 37200mAh / 165Whr Lithium Power Bank provides 3 hours video, 30 hours music, and can charge up to an 87w MacBook pro. Two USB Type A and Two Type C for both video connection and charge phone or laptop (Sport Ver. Only)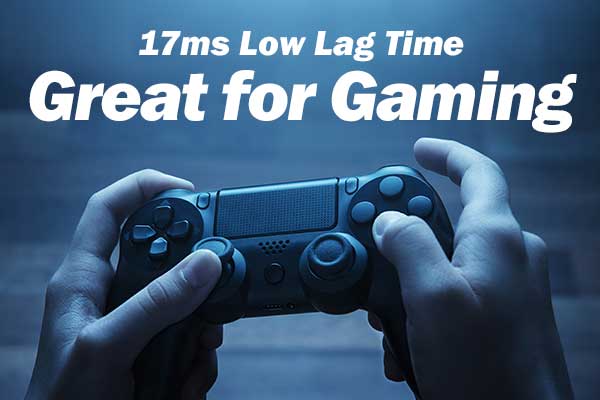 The specialized low input lag of 17ms and unique game modes ensure gamers an ultra-smooth and fun gaming experience.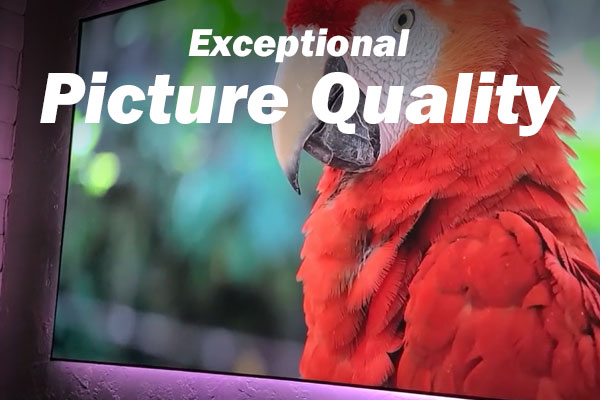 4K video compatible through HDMI EDID ex. Apple4K TV, HDTV Compatibility – 480i, 480p, 576i, 567p, 720p, 1080i, 1080p‎ ; Video Compatibility – NTSC, PAL, SECAM, SDTV‎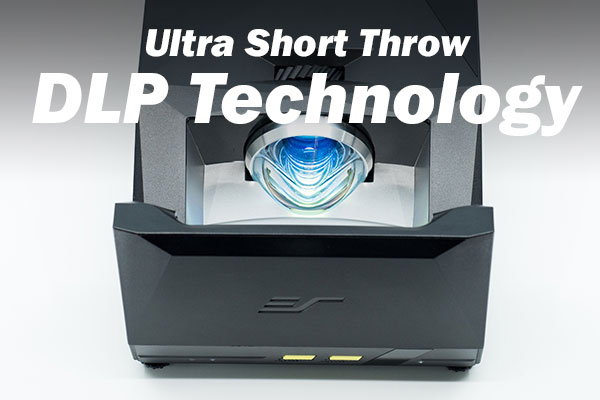 Take the action to the big screen by projecting a 100″ image from just over a foot away. DLP® (Digital Light Processing) is the leading technology. You will experience a projector that lasts long, with a slim design, and sharp /crisp images