Stereowise Plus Editor's Choice Award (R100RV1) "Wraithveil" review
Award Description: Stereowise Plus is an Audio-Video (AV) website that gives insightful feedback on the latest and best  in consumer electronic product and industry trends. It focuses on product evaluation while promoting awareness of  high tech items and their value to AV consumers. The Editor's Choice Award is for manufacturers who have made product that has performed superbly when reviewed by the site's expert panel in addition to it having a great cost to benefit advantage.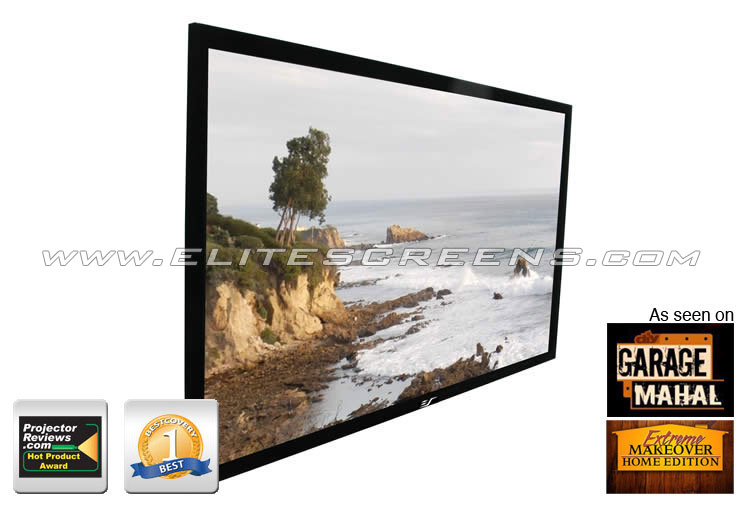 ezFrame Rear Series
FIXED FRAME PROJECTION SCREENS
The ezFrame Series uses Elite Screens WraithVeil® rear projection material within a velveteen coated frame. This new design feature makes installation a lot easier and a lot less time consuming. As an added bonus, a new installation kit is included free of charge.
Design and Installation
2.4" width frame and is velvet coated
Elegant velvet covered frame absorbs projector overshoot and increases picture contrast
Assembles in minutes and includes installation hardware
Split-frame design facilitates lower shipping costs without sacrificing quality
Wall brackets allow screen to slide horizontally for properly centered installation
Installation kit includes: Wood screws & anchors, Wall Brackets, Screwdriver, Mallet
Screen Material
Material Name : WraithVeil®
Gain : 2.2
Viewing Angle : 160°
Material Description : WraithVeil® is our rear projection material which has a special surface coating that enhances color reproduction and black level contrast with good uniformity for large audiences. Ideal for moderate room lighting environments.
160° wide viewing angle
Outstanding picture quality with no compromise in resolution or brightness
Active 3D, 4K Ultra HD, and HDR Ready