Elite's Aeon Series of "EDGE FREE®" Projection Screen Wins the 2015 TWICE Picks Award
Elite Screens is pleased to announce that its Aeon series of "EDGE FREE®" projection screen with its CineGrey 3D® ambient light rejecting (ALR) material has won TWICE Magazine's 2015 Picks Award at the International CES show in Las Vegas.
This first annual award's winners were chosen anonymously by TWICE editors and other industry experts based on the screen's innovative design qualities and functionality.
The Aeon brings a clean, seamless approach to having a large projection surface with flat-panel brightness to virtually any type of interior design.
Please take a moment to visit the site, see the videos and feel free to ask questions.
Warm regards.
-Dave
Dave Rodgers
Marketing Manager, Elite Screens Inc.
About the Aeon Series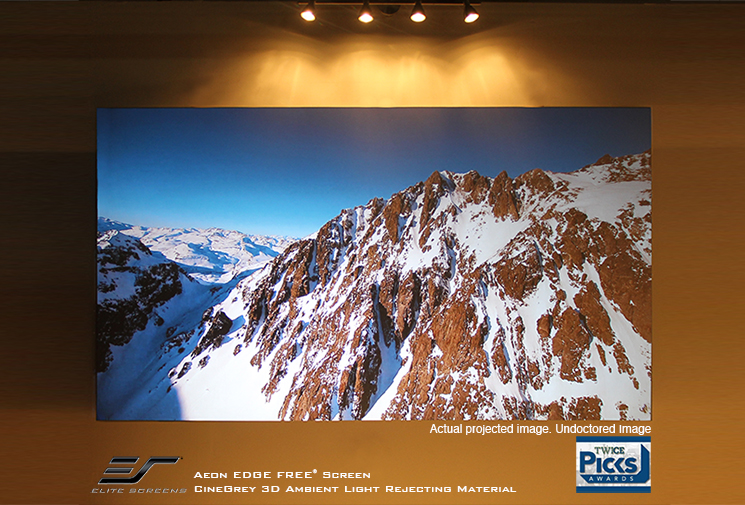 The Aeon Series is a fixed frame projection screen that uses Elite's EDGE FREE® technology. EDGE FREE® means that there is no external framework (edge) bordering the material as seen in traditional frame-screens. The design utilizes an internal frame with wrap-around material that resembles a giant-sized flat panel display. Optional features include an LED back-lighting kit with remote control or a splice bracket kit that will connect multiple frames to create a large size display.
Check out the new product video that explains the Aeon Projection Screen.
[yotuwp type="videos" id="DmOpDpqT2-k" ]
For more information about Elite Screens or EPV®, please contact
email: info@elitescreens.com
tel. 877-511-1211