New Testimonial From Dan Laufman of Emotiva Audio Corp. Regarding the QuickStand 5-Second Screen
Elite's QuickStand 5-Second projection screen has been a great success since its launch a year ago. Here is another testimonial as to its quality and reliability.
Dan Laufman, founder and head of Emotiva Audio Corporation gave a brilliant testimonial regarding the dynamic versatility of the QuickStand 5-Second series. "…we're always setting up portable video displays; it's just a necessary part of our business." Mr. Laufman continued, " This 150 inch screen behind me has seen the road with us many, many shows and it's unbelievable. When they say it's 5-seconds, they're not kidding." He concluded by saying "I can't say enough good things about Elite and this fantastic screen behind me."
Please take a moment to see the video, visit the site, go over the award links and reach out to us if you'd like to know more.
We look forward to hearing from you.
-Dave
Dave Rodgers
Marketing Manager, Elite Screens Inc.
About the QuickStand 5-Second Series

(Click Image for web page)
The QuickStand 5-Second Projection Screen is a free-standing "pull-up" stage projection screen for large venue presentations where wall or ceiling mounted screens are impractical.
Its innovative dual cross spring mechanism supports the Greenguard® Gold (UL2818) Certified MaxWhite® FG 1.1 gain material. It is encased in an ATA wheeled aluminum stage case with drape kit included.
Awards
Winner of SVC Magazine's 2014 Innovative Products Award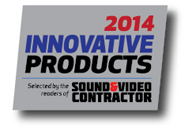 (Click Image to See Award)
 Winner of Worship Facilities Magazine 2014 New Product Awards
For more information about Elite Screens or EPV® products, please contact us at:
email. info@elitescreens.com
tel. 877-511-1211