120″ ezFrame Fixed Frame Screen (R120H1) – "2017 Best of the Best"
Award: Bestreviews.com "2017 Best of the Best" (May 2017)
Product:  Elite Screens R120H1 ezFrame Series, (120-inch Diagonal 16:9, Fixed Frame Home Theater Grey Projection Screen)
Review Link: https://bestreviews.com/electronics/projectors/best-projection-screens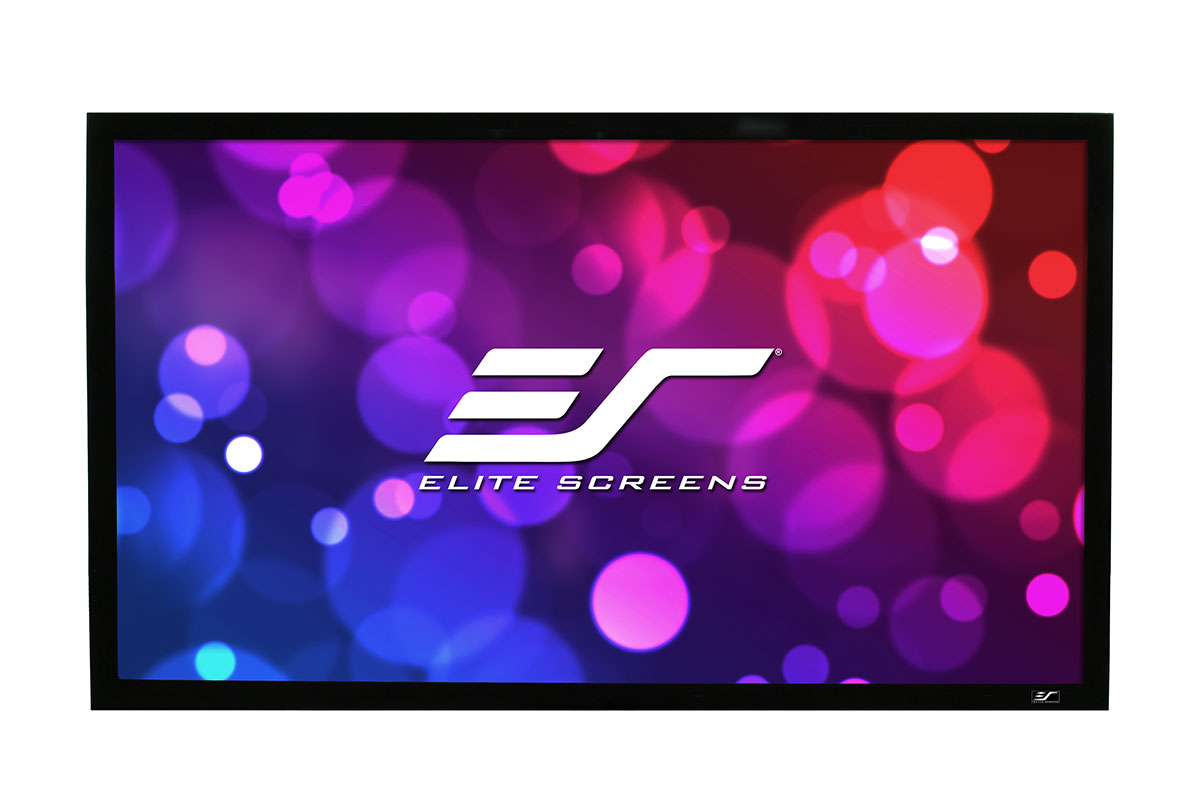 R120H1 ezFrame Series :
120-inch Diagonal, 16:9 Aspect Ratio.
View Size: 58.7″ H x 104.7″ W. Overall Size: 63.4″ H x 109.4″ W.
Screen Material: CineGrey, 1.0 Gain. Multi-layer PVC, flat tensioned, lightly textured screen with 160 degree viewing angle. Designed for low contrast DLP and LCD projectors to enhance black levels while minimizing loss in color reproduction. 4K Ultra HD and Active 3D Projection Ready. Mildew resistant, and easy to clean.
Features a sleek, black velvet-coated frame that absorbs projector overshoot and increases picture contrast. 2.36″ width frame.
Sliding wall brackets and installation kit included. Sliding wall brackets allow screen to slide horizontally for properly centered installation. Installation Kit includes: Woods screws & anchors, wall brackets, screwdriver, and mallet.
2 Year Manufacturers Warranty
(Click image to view product details)
Click here to see the featured Amazon listing.
About Bestreviews.com:
BestReviews is the site to turn to when you're about to buy something. From blankets to cordless drills, they compare the top products in hundreds of categories to give buyers the most reliable purchasing advice.  The goal of  Bestreviews.com is to make it easy for consumers to pick the best product and to be confident in that decision.  BestReviews is committed to providing comprehensive and trusted reviews for products that matter to consumers. They do the research to help you save time and money. Bestreviews.com has helped over 104-million customers make their purchasing decisions (see Live counter here).  When a consumer is getting ready to buy a product, they have a lot of options. There may be hundreds of products to choose from, dozens of them with user reviews that make them sound equally great. It can be confusing and time-consuming to cut through the data to find the best product.  Bestreviews.com evaluate the dozens (or hundreds) of available products in each category, and select from them the shortlist of the most promising and best-selling products. — How does one know what to look for in a product? The Bestreviews.com staff interview industry experts, contractors, and other super-users before their review process begins.  Then Bestreviews buy these products, just like a customer would, and subject them to independent evaluations and tests.  Finally, they consider the opinions of buyers, who have already invested their money and time in using the products. Bestreviews.com surveys readers regularly to seek their opinions on products, and then they pore over the product evaluations left online, to develop a clear picture of the strengths and weakness that a product may exhibit over time.