Elite Screens ezCinema 2 (F107XWH2) "free-standing" portable pull-up projection screen is ideal for houses of worship
This Video is Part of a Case Study Filmed at the Long Beach Buddhist Church Featuring Minister Gyokei Yokoyama.
Portable free-standing projector screens play a huge role in providing a convenient large video display where wall or ceiling installations are not practical. Such environments include multi-purpose rooms, corporate or training facilities, residential applications and in this case, churches, temples, and other houses of worship.
A recent feature at the Long Beach Buddhist Church in California demonstrates the immense value that a "floor-standing, pull-up" projection screen will provide. In the application featured here, the subtitles for sermons and religious services may be displayed to bridge the language gap or for the benefit of those who are hearing impaired. Mobile visual displays such as the ezCinema 2 series will provide a large visual aid, wherever needed, that can be set up in just seconds.
The ezCinema 2 series of projection screens come with a durable black casing and is available in 52″ to 110″ sizes with a selection of aspect ratios. This includes 4:3 (NTSC), 16:10 (WXGA), or 16:9 (HDTV).(Widescreen) aspect ratios.
(Click Here to Read the Case Study)
About the ezCinema 2 Series Projection Screen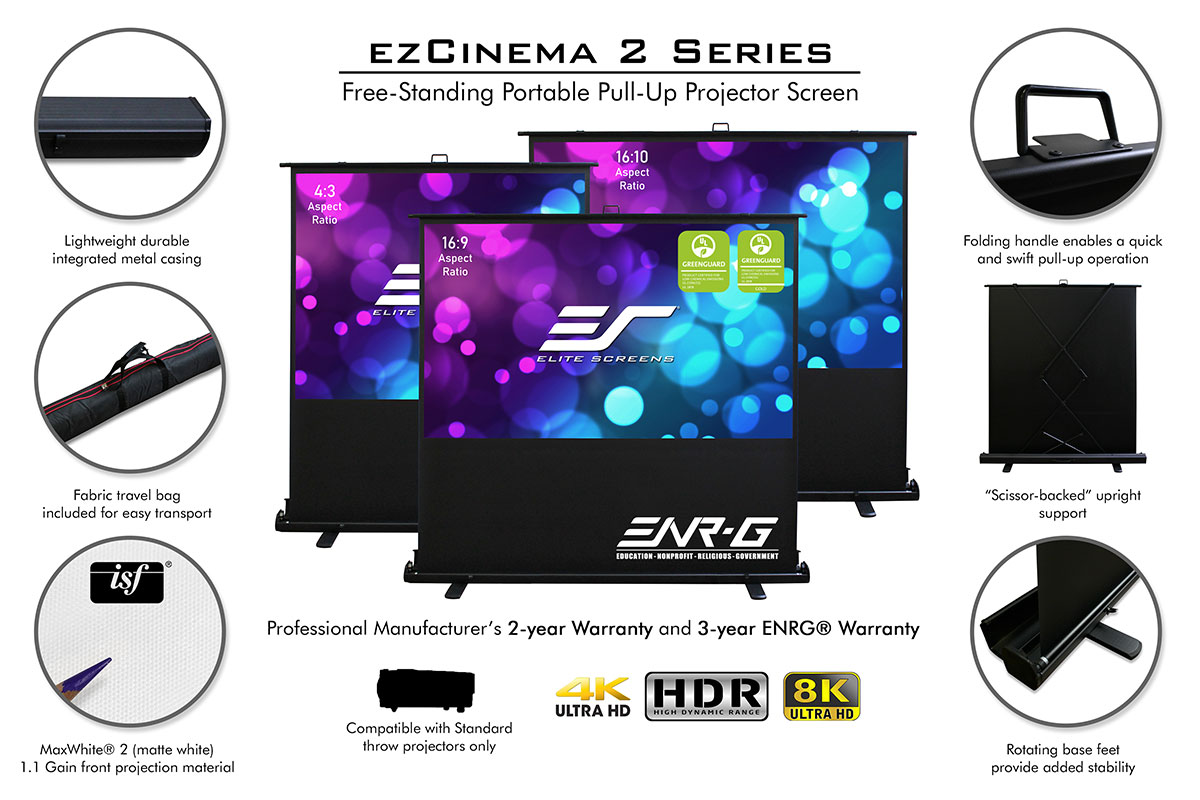 Free-standing "scissor-back" support
Durable black matte metal casing
Easy to carry and sets up in seconds
1.1 Gain matte white with a 180° viewing angle
4K Ultra HD, Active 3D, and HDR Ready
GreenGuard Certifications Meet the Requirement for Safe Indoor Air Quality

The UL GREENGUARD Certification Program requires that products undergo independent, scientific testing and ongoing monitoring of their chemical emissions. Only products that meet UL Environment's stringent emissions standards qualify for certification. These standards are based on established criteria from key public health agencies and ensure safe indoor air quality in both home and business applications.