The Top 4 Best Foldable Projector Screens for On-the-Go Movie Nights
Planning a movie night under the stars? Look no further! We have curated a list of the top four best foldable projector screens to take your outdoor cinema experience to the next level. These portable screens are the perfect companions for camping, picnicking, or simply enjoying a movie night in your backyard.
With their easy setup and compact design, these foldable projector screens are made for on-the-go entertainment. Worrying about carrying heavy equipment or sacrificing picture quality is unnecessary. Our selection includes screens that prioritize durability and functionality.
Get ready to immerse yourself in a cinematic experience like never before. Invest in one of these top-rated foldable projector screens and transform any space into your very own open-air theater.
The rise of portable projectors
In recent years, portable projectors have become increasingly popular, allowing people to enjoy their favorite movies, TV shows, and presentations wherever they go. These compact devices have revolutionized media consumption, providing a portable and convenient alternative to traditional televisions and home theaters.
Technological advancements have made portable projectors more affordable and accessible to the average consumer. Their compact size and lightweight design make them ideal for outdoor use, allowing you to set up a cinema-like experience anywhere you desire.
Top 4 best foldable projector screens
Elite Screens offers a range of high-quality foldable projector screens perfect for outdoor use. Elite Screens also offers a variety of sizes and materials for their folding-frame portable screens, including front and rear projection options. Whether you need a large or small portable outdoor projector screen, Elite Screens has various options to suit your needs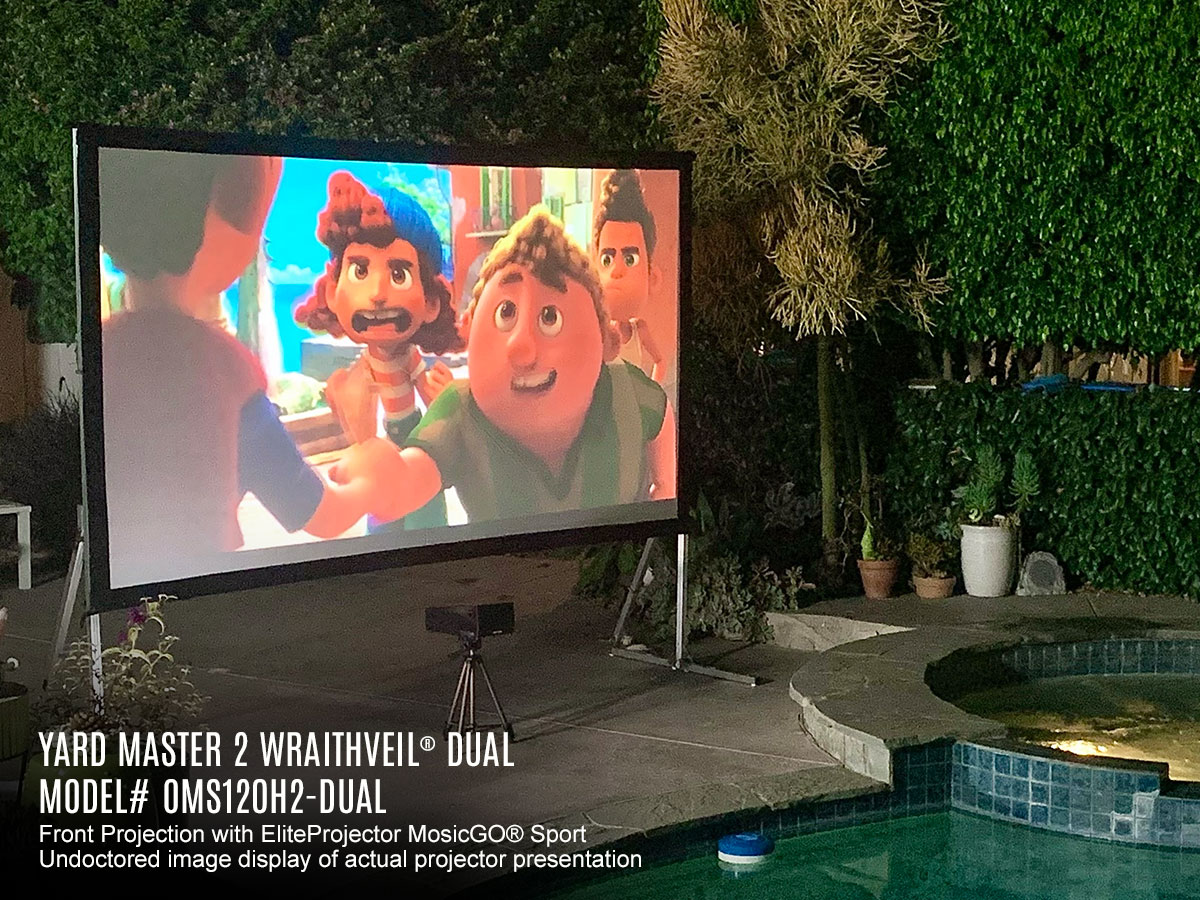 1. Yard Master 2
One popular option, particularly for outdoor use, is the Yard Master 2, which features a fast folding-frame design that allows quick and easy setup in minutes. It is also made of lightweight aluminum for ultimate portability. This allows for quick and easy setup, making it ideal for outdoor events or gatherings. The Yard Master 2 series offers a variety of screen sizes, including 100″, 110″, 120″, 135″, and smaller options like 58″, 75″, and 90″. Elite Screens provides different screen materials, including CineWhite® UHD-B, WraithVeil® Dual, and more. This ensures that customers can find the ideal option for their specific needs and preferences.
2. Yard Master 2 WraithVeil® Dual Series
Speaking of which, the Yard Master 2 WraithVeil® Dual is an excellent choice for outdoor or indoor projection needs. Its fast folding-frame design allows for quick and easy setup in just minutes. With its lightweight aluminum frame, assembling the screen is a breeze. The screen features WraithVeil® Dual tensioned front/rear projection material, making it compatible with 4K Ultra HD, Active 3D, and HDR content. The black masking borders enhance picture contrast, providing a high-quality viewing experience. Available in various diagonal sizes, ranging from 100″ to 180″ in 16:9 format, this screen offers versatility for different projection setups. 
Further, the screen has convenient corner pull-tabs and snap-button attachments, making installation a breeze. Its lightweight aluminum square tube construction and stainless steel components ensure durability and corrosion resistance, making it suitable for outdoor use. The detachable AT-legs, included with 100″-135″ models, provide stability and height adjustment. Additional accessories such as stakes, rope, and support rings are included for added support and stability, and a soft-padded carrying bag allows for easy portability. Optional extension legs are available for separate purchase for those looking to increase the height of their screen. With its impressive features and accessories, the Yard Master 2 WraithVeil® Dual is a reliable and versatile projection screen.
3. Yard Master Lite Series
The Yard Master Lite is a lightweight outdoor portable projection screen that offers convenience and versatility for on-the-go presentations or backyard movie nights. Its aluminum tube frame construction allows for quick assembly by joining the tube frames together. The screen material, SilkWhite 2, is compatible with all projectors and provides a durable, flat, and taut projection surface. Its wide viewing angle, black masking borders, and neutral color temperature ensure a vibrant and clear picture from any angle. The screen is foldable, wrinkle-free, easy to clean, and washable. It comes with a soft polyester fabric carrying case for easy transport and storage, along with ground stakes, tethering rope, and water bags for added stability and support during outdoor use. Overall, the Yard Master Lite combines functionality, durability, and portability for an enjoyable projection experience.
4. Yard Master Plus Series
The Yard Master Plus is an enhanced version of Elite Screens' portable indoor/outdoor folding-frame screen designed for larger venues. Its variable height settings make it versatile and adaptable to different event needs. The screen features Elite Screens' ISF-certified CineWhite® UHD-B 1.3 gain front projection material, which ensures accurate color points, dynamic range, and color temperature. The black material backing prevents light penetration that an ambient light-rejecting screen (ALR) would, resulting in superior color reproduction. The screen is compatible with 4K Ultra HD, Active 3D, and HDR content. It also comes with black masking borders that enhance picture contrast. The screen is available in various diagonal sizes. It comes with a collapsible frame, detachable AT-legs, and a sealed edge detachable design for easy setup and teardown without needing tools. It also includes corner pull tabs for easy installation and comes with stakes, rope, and support rings for stability. The screen comes with a carrying bag for portability and protection, with a wheeled carrying bag available for the larger models. It comes with a 2-year limited warranty and lifetime tech support provided by Elite Screens.
Conclusion
In conclusion, a foldable projector screen is essential for anyone looking to enjoy movies and other multimedia content outdoors. The top four foldable projector screens we have discussed offer excellent portability, image quality, and ease of use.
Invest in a foldable projector screen today and elevate your on-the-go movie nights to new heights. Turn any location into your very own outdoor theater and create memories that will last a lifetime. Don't miss out on enjoying your favorite movies with friends and family under the stars.
Transform your outdoor entertainment experience with one of the top 4 best foldable projector screens available on the market today.